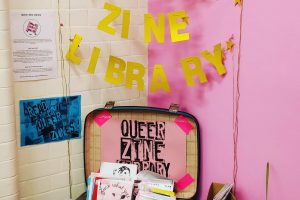 Art & Culture
'Message in a Bottle' by Queer Zine Library and Queer Newham
Earlier this year everyone was invited to get crafty, create their very own zines and submit them to be part of online exhibition 'Message in a Bottle,' which is now live online for all to explore, read and enjoy.
Message in a Bottle is a collaborative zine-making and trading exhibition project organised by Queer Zine Library and Queer Newham as part of Join the Docks autumn programme.
Queer Zine Library defines zines as 'DIY publications made by individuals or groups of people rooted in a history of radical and political self-publishing'. Zines are the result of a passion for self-expression, are cheap to make and require no skills to create. They can document history, tell stories and experiences, and can be made with a variety of materials.
This project supports creativity, connection, and wellbeing within the LGBTQIA+ community. The aim of 'Message in a Bottle' is to get more people making zines to share stories, art and writing and connect people through writing and craft.
For your visit
Places To Stay
Sunborn London
Luxury accommodation on board a superyacht minutes from ExCeL London.
New Arrival
Business
Duffy London
Duffy London is a Design Studio from Christopher Duffy producing ideas-based pieces of modern furniture and sculpture. The studio combines art with function to design and manufacture a range of limited edition collections that play on the concepts of gravity, geography, and illusion.
Attractions
City Hall
One of the world's most sustainable buildings is also a striking landmark.