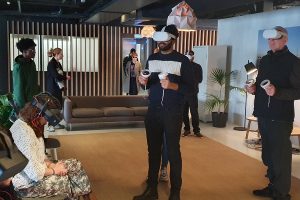 Heritage
Millennium Mills: Feeding Industrial London
Using narrative-story-telling approaches and data visualizations to allow the users to see the long-distance trade that helped feed London's growing population of 7 million people by 1910. We will use digital experience to show visitors how the Royal Docks was connected in a network of globalization and colonialism that provided the growing supply of wheat flour to feed the people living in Greater London during the early 20th century.
For your visit
Food & Drink
Airline Cafe
No one complains about all-day breakfast for under a fiver. Right next to the ExCeL, this cafe-diner opens early to late.
Food & Drink
Cafe Bonane
Down-to-earth cafe serving fried breakfasts and hearty lunches on the dockside.
Food & Drink
Al Masar
Hot and cold Lebanese mezze dishes on are on the menu here, alongside grilled meat. BYO, no cover charge.