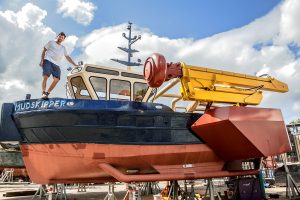 Events
Mudskipper
Have you ever seen a ship that can walk on land? A huge new mobile sculpture, 10 years in the making, will crawl ashore at the Royal Docks this summer to challenge your perceptions of what's possible.
British artist James Capper brings his ambitious new work MUDSKIPPER, to the Royal Docks for a series of live demonstrations, a month-long display, and an exhibition of original drawings and photography charting his making of Mudskipper.
Inspired by the evolution of the vertebrates and their leaps from water to land MUDSKIPPER brings together engineering and art in this new experimental amphibious sculpture.
Capper has transformed a nine-metre former commercial fishing boat and given it the ability to move on land by giving it hydraulic steel legs and special treadpad feet. After travelling down the Thames using its original engine and rudder, it will slowly emerge from the river at the Royal Docks for everyone to marvel at.
Mudskipper is produced by Illuminate Productions and co-commissioned by Battersea Power Station (the Battersea Power Station Powerhouse Commission), Nine Elms on the South Bank and the Royal Docks Team. It is supported by Arts Council England, Rothschild Foundation, Hannah Barry Gallery, Albion Barn and Perkins Engines, with additional support from the Science Museum Group and RoDMA (Royal Docks Management Authority).
Demonstration times and dates:
Mudskipper demonstration: Friday 6 August 4:30pm
Mudskipper demonstration: Saturday 7 August 5.30pm
Mudskipper demonstration: Saturday 4 September 4:30pm
Mudskipper demonstration: Sunday 5 September 3.30pm

Mudskipper display
Royal Victoria Dock – from Sunday 8 August until Thursday 2nd September
Mudskipper exhibition
A free exhibition of artist James Capper's drawings and photography charting the making of Mudskipper will be on display in the Good Hotel, next to Mudskipper's display, from Monday 2 August until Sunday 5 September.
---
All events and activities will adhere to the Government's COVID-19 social distancing guidelines. Regular updates are also provided to organisers to ensure all events and activities are adhering to the most recent Government Coronavirus guidance and restrictions
For your visit
Places To Stay
Good Hotel London
This floating hotel is also a not-for profit organisation that invests in the local community.
Food & Drink
Top 1 Forever
Modern British restaurant overlooking of the water, with a wood-fired oven.
Food & Drink
Il Volo
Il Volo serves Italian comfort food that salutes the docks' history at the centre of world trade.