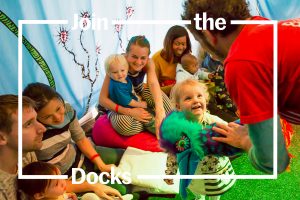 Join the Docks
Nautical Story Telling
We will be getting nautical with our drop-in crafts, creating mini stick-rafts and boats. You can launch these wherever you like - in the Royal Docks, in the Thames, have a race in your paddling pool with a friend, or even try them out in your bath at home.
Our brilliant Story Builders will be there to guide you, with watery themed stories and games throughout the day.
For your visit
Food & Drink
Nakhon Thai
Thai restaurant overlooking the docks, with a Polynesian-style cocktail bar.
Community
University of East London
UEL's docklands campus is known for its state-of-the-art sports facilities and formiddable reputation.
New Arrival
Food & Drink
Perky Blenders
Everything about Perky Blenders x Goodvibes is upbeat and friendly, from the name and the decor all the way to its coffee.