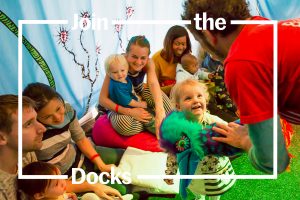 Nautical Story Telling
We will be getting nautical with our drop-in crafts, creating mini stick-rafts and boats. You can launch these wherever you like - in the Royal Docks, in the Thames, have a race in your paddling pool with a friend, or even try them out in your bath at home.
Our brilliant Story Builders will be there to guide you, with watery themed stories and games throughout the day.
For your visit
Food & Drink
Starbucks Coffee
Just outside Thames Barrier Park, the outdoor seating makes this Starbucks a favourite spot for dog walkers.
Places To Stay
Holiday Inn Express
There's unlimited breakfast at this three-star hotel right next to Royal Albert DLR.
Food & Drink
Lockside Kitchen
Wharfside community cafe offering a regularly-changing menu of healthy and affordable food.