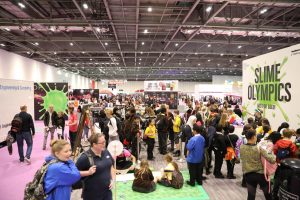 Conferences
New Scientist Live
This October, New Scientist Live will take you on a journey of discovery, turning London's ExCel Centre into the most exhilarating place on Earth!

Jam-packed with thought-provoking talks, ground-breaking discoveries, interactive experiences, workshops and performances that will inspire all ages, New Scientist Live is an extraordinary day out.
For your visit
Places To Stay
Good Hotel London
This floating hotel is also a not-for profit organisation that invests in the local community.
Food & Drink
La Barrique
Welcoming wine bar just outside the ExCeL centre, with continental salad, pizza, and sandwiches.
Art & Culture
Making Space: Go the Distance
Installation artwork by Jessie Brennan, created with Peacock Gym by collecting images from the archive of this renowned community boxing hub.
Similar events