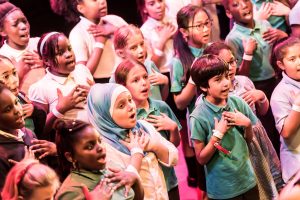 Join the Docks
Newham Music
Award-winning music hub for Newham, Newham Music is developing a programme which will inspire pupils from nursery school through to Year 11 to create new original music through the exploration of the heritage of the Royal Docks.
Working with the Museum of London Docklands and over 150 pupils aged 3 -16 from schools across the Royal Docks, Newham Music will showcase the history of the Docks to children and help them to devise their own musical compositions based on the area.
See some of the work complete so far and listen to some of the songs the children and music teachers have developed, over on the Newham Music website.
This work will also provide interactive and accessible learning resources and activities as well as a Join the Docks song book which will then be made available for use in schools and community settings throughout Newham.
Discover more about this project as it progresses, please check back here, follow our Facebook, Twitter and Instagram, or register for our newsletter to see the news first.
For your visit
Business
Tate & Lyle Sugars
This refinery on the banks of the Thames has been producing sugar by the tonne for over 140 years.
New Arrival
Food & Drink
Triple Two Coffee
Located inside the Royal Wharf Clubhouse, Triple Two Coffee sits within the focal point for daily health and fitness classes, swimming and neighbourhood events.
Places To Stay
Holiday Inn Express
There's unlimited breakfast at this three-star hotel right next to Royal Albert DLR.