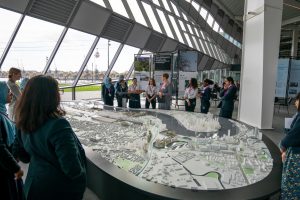 Events
NLA Royal Docks Model and Exhibition Talks
Have you ever wondered what it would be like to see the Royal Docks and the surrounding areas from the air, but without ever actually leaving the ground? To see every building and space in perfect detail, while hearing about the history of this magnificent area. The plans currently underway to develop and regenerate this part of East London, delivering over 135,000 new homes and creating over 280,000 new jobs over the next 20 years.
If you answered yes, then the NLA Royal Docks Model and Exhibition Talk is just for you. Taking place on the second Friday of each month, from 12:30 – 13:00 at The Crystal building, our 1:1000 scale 3D-printed model provides a bird's eye view of the Royal Docks and all areas surrounding it. The model represents 10,000 buildings, and covers 20 square km of London, providing a detailed view of the exciting developments taking place across the area over the next 10 years. Once London's gateway to the world, the east has once again begun its journey to re-emerge as a commercial and cultural hub of global significance.
The talks will allow you to hear and see how the £8 billion investment is being utilised to deliver opportunity and prosperity for all - while focusing on key themes that make this area the jewel in the crown of London.
For your visit
Places To Stay
Good Hotel London
This floating hotel is also a not-for profit organisation that invests in the local community.
Food & Drink
Starbucks Coffee
Just off the walkway linking Custom House DLR with the ExCeL, this branch is a favourite quiet spot for students.
Places To Stay
Premier Inn
Perfectly positioned for access to the ExCeL.