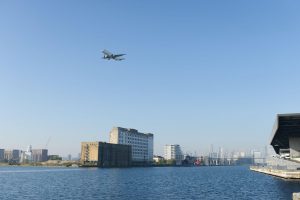 Events
Open House: Millennium Mills
As part of Open House London 2021, we are excited to offer a unique opportunity to take a tour inside the iconic Millennium Mills in the Royal Docks.
The tours are conducted by Paul Talling, author of the Derelict London website and books, and will give exclusive access to dusty factory floors, hidden narrow staircases and the incredible views from the roof of this historic building. Along the way you will hear about the life of the building from it's heyday in the 1920s & 30s as a flour mill through to the current plans for its redevelopment.
Important Information
The tours are ticketed and only those who register for a ticket will be able attend.
When booking a ticket please be aware that the tours include a climb to the roof via 10 flights of steps and once started there will not be an opportunity to not complete the full tour.
To ensure a place on one of the tours you must sign up for a specific timeslot.
Due to the derelict nature of the building spaces are limited to 10 people per tour and attendees must be over 16 to take part
Booking for tours are now open
For your visit
Activities
SportsDock
State-of-the-art UEL sport facilities, offering martial arts, table tennis, badminton, and more.
New Arrival
Food & Drink
Triple Two Coffee
Located inside the Royal Wharf Clubhouse, Triple Two Coffee sits within the focal point for daily health and fitness classes, swimming and neighbourhood events.
Food & Drink
The Living Room
The Good Hotel's floating restaurant dishes up locally-sourced comfort food with a Spanish twist.