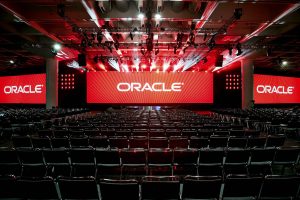 Conferences
Oracle OpenWorld
As artificial intelligence and machine learning drive changes in the workforce, discover ways in which technology will shape the future workplace. Data scientists, anthropologists and futurists from around the world will descend on the ExCeL in January. Keynote speakers will present ideas around the future of automation alongside an exhibition displaying Oracle's innovations.
For your visit
Activities
Emirates Air Line
This cable car flying between the Royal Docks and North Greenwich offers panoramic views of the river.
Art & Culture
The Line
Sculpture trail leading from the O2 to the Queen Elizabeth Olympic Park via Royal Victoria Dock.
Food & Drink
La Barrique
Welcoming wine bar just outside the ExCeL centre, with continental salad, pizza, and sandwiches.