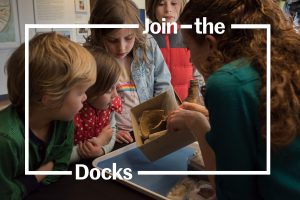 Our Docks: Local history family fun
Explore the diverse galleries at the Museum of London Docklands to discover the changing landscape of the docklands area and its people. The Museum of London Docklands says:
Watch the past dance before your eyes in captivating local community group performances inspired by the museum collection, be enthralled by tales from the docks, join a family tour to discover the secrets of our impressive building or get creative with crafts at this vibrant local history day for the whole family.
Programme of events
Dance like a docker
Free ticketed workshop
Recommended age: 5+
12.15-1pm
Pocahontas Room | Basement
Hoist, hook and hurl your way across the stage in this movement workshop. Be inspired by the actions and sounds once used around London's docks to carry cargoes and load ships. Afterwards, you'll have the chance to perform together at our community performance.
Spaces are limited to 20 and are first come first served. Please collect your free ticket from front desk on the day of the event.
Build a boat!
Free drop-in craft
Recommended age: 3+
12-1.15pm & 1.45-3.45pm
Foyer |Ground floor
Build a beautiful boat using recycled and craft materials and learn some sailor speak. Fill your boat with the goods that travelled to the Docks from all over the world.
Hats and hooks: become a dockworker
Free drop-in craft
Recommended age: 5+
12-1.15pm & 1.45-3.45pm
Quayside Room |Floor 3
Transform yourself into a dock worker from the past. Make your very own docker's hook and flat cap and get to work hauling and hoisting, or choose to become a Dockmaster and direct the ships bringing goods from across the globe.
Our Docks Community Performances
Free performance
All ages
1.15pm
Wilberforce Theatre | Floor 3
Enjoy three short community performances bringing the story of the London Docklands to life. See the sights and hear the sounds of the docks as you watch the quayside dance and move before your eyes in this showcase of local talent.
These performances have been devised by participants from Anna Fiorentini Theatre & Film School, Green Candle Dance and Britannia Village as part of a project exploring the history of the Royal Docks.
On the Docks
Free drop-in film screening
Recommended age: 5+
2.30-3.30pm
Wilberforce Theatre | Floor 3
Hear the real life experiences of the people who lived and worked on London's docks from the 1930s up until the closing of the docks from the 1970s. What was life like growing up in this area? What jobs did people do? Who drove an electric bogey?
Join a family-friendly Q&A session afterwards with retired dock workers from the Friends of the Island History Trust.
On the Docks was produced as part of the 2018 Brass Tally Men project between digital-works, the Museum of London Docklands and children from Riverside and Westminster Cathedral primary schools.
Open House: Welcome to the Warehouse
Free family tour
Recommended age: 5+
12.30pm & 2pm (approx. 25 mins)
Meet at Information Desk | Ground floor
Discover the secrets of the museum building in this interactive family friendly tour led by our Visitor Experience staff. Tip-toe across 200 year old floorboards, practice hauling cargoes into the warehouse and gaze out of the loophole door to see the sky rise buildings where the bustling docks once stood. This tour forms part of our Open House 2019 celebration.
Meet the Dockers
Free family talk
Recommended age: 5+
3.30-4pm
Wilberforce Theatre | Floor 3
Ever wanted to know what a docker eats for breakfast? Find out in this family friendly Q&A session with retired dock workers from the Friends of the Island History Trust. No question is too bizarre!
Object handling
Free drop-in
All ages
12pm-4pm
Quayside Room | Floor 3
Get up close to some real museum artefacts related to the history of the Docklands area. What will you discover?
Local History organisations
Information stall
Quayside room | Floor 3
12-4pm
Friends of Island History Trust & the Royal Docks History Club will both be showcasing their work to preserve local heritage on information stalls.
Self-guided family resources

Choose from a selection of self-guided family trails and adventure backpacks and set sail on an adventure through our galleries. Trails and backpacks are available for families with children under 5 and children aged 5+.
Ask at the information desk on arrival for more information.
Adventure backpacks require a £5 refundable deposit and trails can be downloaded and printed prior to your visit or picked up on arrival.
For your visit
Food & Drink
Pier Masala
Cosy North Woolwich curry house serving traditional Indian dishes at reasonable prices.
Places To Stay
Hampton by Hilton
A reliable, upper mid-range option just east of Connaught Bridge.
Activities
NASSA Sport
Community basketball club for 8 to 18 year-olds from Newham, in partnership with UEL.