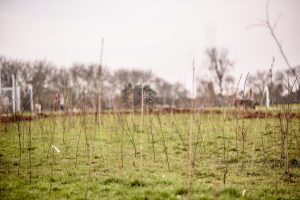 Sport & Activities
Planting Day in Beckton District Park South
Trees for Cities are bringing splashes of colour and some delicious edible fruits and nuts to Beckton District Park South. Join their planting day to get your hands dirty, then cake and celebrations.
Trees for Cities say:
Trees for Cities is working in partnership with the London Borough of Newham to plant new young trees in Beckton District Park South. The project is part of the Mayor of London's tree planting programme for National Tree Week. It will be a celebration of trees, providing activities for local schools and the community and finishing with a big planting day on Saturday 30th November.
The young trees will add to the existing tree boundary in the park, helping to block noise and air pollution from Royal Albert Way and London City Airport. The species will support habitats and food for urban wildlife and bring splashes of colour to the park throughout the seasons. We will also be planting edible fruit and nut trees such as walnut, hazel and crab apple for future generations to enjoy.

The planting will not impact on existing sports pitches.
For your visit
Activities
NASSA Sport
Community basketball club for 8 to 18 year-olds from Newham, in partnership with UEL.
Food & Drink
Galyons Bar & Kitchen
This 19th-century dockside inn has recently been reborn as a waterside gastropub.
Community
University of East London
UEL's docklands campus is known for its state-of-the-art sports facilities and formiddable reputation.