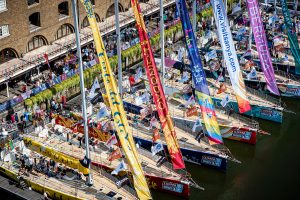 Royal Docks Summer Programme
Clipper Round the World Yacht Race Finish 2022
The Royal Docks will play host to a spectacular finale celebration as the Round the World Clipper Race finish event will take place next to Royal Albert Dock on Saturday 30 July.
This free event is perfect for all ages and will feature the arrival of the Clippers in Royal Albert Dock in a breath-taking 'Parade of Sails'. Cheer on the winning crew, celebrate with friends and soak up the dockside party atmosphere at this exciting summertime event, which will also feature a main stage with live music and entertainment, as well as delicious food and drink.
The Round the World Clipper Race is one of the biggest challenges of the natural world and an endurance test like no other. With no previous sailing experiences necessary for crews, it's a record-breaking 40,000 nautical mile race around the world on a 70-foot ocean racing yacht.
Further information on the race can be found on the Clipper Round the World website: www.clipperroundtheworld.com
For your visit
Activities
NASSA Sport
Community basketball club for 8 to 18 year-olds from Newham, in partnership with UEL.
Activities
Fight For Peace
Boxing and martial arts club helping young people affected by crime and violence achieve their potential.
Food & Drink
The Living Room
The Good Hotel's floating restaurant dishes up locally-sourced comfort food with a Spanish twist.