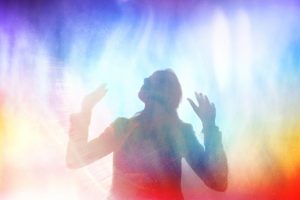 Royal Docks Originals
Royal Docks Original Voices: How to Taste the Magic of the Rainbow
Rainbows are a symbol of hope - so what does hope mean for a place where world trade, goods, food, people, sexuality, identity and race, all over-lapped?
This conversation with Rian Coulter from Bompas & Parr, globally recognised as the leading experts in multi-sensory experience design, will be a fun and joyous look at rainbows and their symbolism. We will unpick the history and science of the rainbow, as well as exploring the themes of sexuality and identity in the Royal Docks area.
Find out how by working with Royal Docks communities, local history has inspired and informed Bompas & Parr's brand new installations for Royal Docks Originals - the Flavour Rainbow and a huge rainbow over Royal Victoria Dock.
This is definitely one for the rainbow-lovers, foodies, or artists wanting to find more about the creative process of turning ideas into a reality.

Hosted by Momtaz Begum-Hossain:
Momtaz Begum-Hossain is a Colour Expert, award-winning Journalist and Royal Docks resident. She's worked as a professional Writer and TV Presenter for over a decade for outlets like The Guardian, Asiana, HuffPost, gal-dem and the BBC. Her travels around the world have seen her interviewing some truly inspiring minds, while back in London she's hosted live events at venues such as BFI Southbank and Wilton's Music Hall. Her third book Hello Rainbow: Finding Happiness in Colour is published in December 2021.
Panelist: Calu Lema
Calu is a gender fierce queer activist passionate about decolonising identities, visibility, anti-oppression work, inclusive intimacy and creative pleasure. They facilitate genderqueer rituals, events and spaces for personal and communal growth. Their story has been shaped by internal and external migration journeys that has led them to advocate for body autonomy, LGBTQ+ rights and intersectional feminism.

Who is this for: Rainbow lovers, food lovers, LGBTQ+, the history of the rainbow,
Takeaways: Learn more about rainbows, how you turn ideas into reality, creative process unpacked.
For your visit
New Arrival
Food & Drink
The Royal Standard
The Royal Standard has re-opened under new management as a family-run pub that welcomes everybody, including children until 6pm.
Community
Royal Wharf Community Dock
From adult ballet classes to dance and drama classes for kids, this new centre in the heart of Royal Wharf has begun with a bang.
New Arrival
Business
Royal Albert Dock
This new commercial heart for London will stretch from Royal Albert DLR almost as far as Cyprus.
Similar events