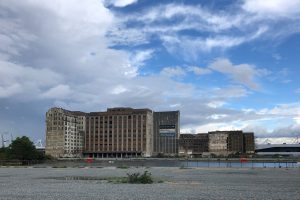 Royal Docks Originals
Royal Docks Originals - Millennium Mills Tours
As part of Royal Docks Originals, we are excited to offer a unique opportunity to take a tour inside the iconic Millennium Mills in the Royal Docks.
The tours are conducted by Paul Talling, author of the Derelict London website and books, and will give exclusive access to dusty factory floors, hidden narrow staircases and the incredible views from the roof of this historic building. Along the way you will hear about the life of the building from its heyday as a flour mill through to the current plans for its redevelopment.
The tours will take place at the following times on each day and will last for approximately 45 minutes.

For your visit
Places To Stay
Travelodge London ExCeL
A good budget choice, eight minutes walk from the ExCeL centre.
Food & Drink
China Palace
Dim sum, karaoke, and tradition Chinese cuisine next to the ExCeL centre.
Art & Culture
Making Space: Custom House Is Our House
Installation art comprising a life-sized group portrait of individuals who live and work on Freemasons Road. Part of the Making Space series by Jessie Brennan.