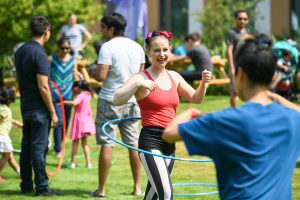 Royal Wharf Summer Fete
Visit this Summer Fete in one of London's newest neighbourhoods. Enjoy activities from lawn games, face painting and live music to face painting. There will also be the opportunity to tuck into some delicious food and coffee.
For your visit
Food & Drink
Tapa Tapa
Tapas at this red-bricked Spanish place just inside the ExCeL comes traditional or with a modern twist.
New Arrival
Art & Culture
Making Space: Custom House Is Our House
Installation art comprising a life-sized group portrait of individuals who live and work on Freemasons Road. Part 3 of the Making Space series by Jessie Brennan.
New Arrival
Food & Drink
The Snack Shack
Homemade cakes and hot food are on offer at this friendly and laid-back spot on St. John's Green.