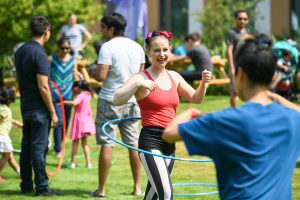 Join the Docks
Royal Wharf Summer Fete
Visit this Summer Fete in one of London's newest neighbourhoods. Enjoy activities from lawn games, face painting and live music to face painting. There will also be the opportunity to tuck into some delicious food and coffee.
For your visit
Community
Henley Arms
A local fixture since 1901, this pub seems untouched since its post-war refurbishment. Step back in time and enjoy a pint over a game of darts.
Outdoors
Lyle Park
It's easy to miss Lyle Park's narrow entrance, but its triangle of green with a river view is worth exploring.
Activities
London Royal Docks Open Water Swimming
Swim outside year round against the historic backdrop of Royal Victoria Dock. Safety tagging included.