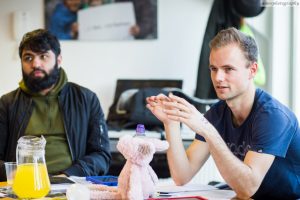 Events
Scribers Hive: Royal Docks
Scribers Hive: Royal Docks is a unique learning experience designed to give the young people of Newham a way to express themselves through multimedia storytelling. This programme was created so that the diverse group of participants will be taught transferable production skills they can use to voice their issues in today's modern world.
Participants will be taught how to express themselves through: article writing, graphics design and A/V production over the programme's seven-month duration. Each stage of training will combine hands-on training, engaging group activities, cultural outings, collaboration between participants and scheduled learning evaluations.
Scribers Hive is funded by the Royal Docks Create Your Docks community fund.
For your visit
Activities
NASSA Sport
Community basketball club for 8 to 18 year-olds from Newham, in partnership with UEL.
Activities
SportsDock
State-of-the-art UEL sport facilities, offering martial arts, table tennis, badminton, and more.
Places To Stay
Sunborn London
Luxury accommodation on board a superyacht minutes from ExCeL London.