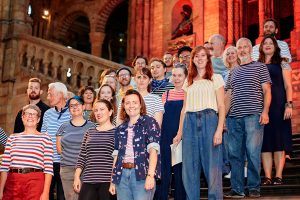 At the Docks
Sea Shanties & Lascar Tales
Join students from local school Britannia Village Primary School and the London Sea Shanty Collective on the banks of the Thames at the new Greenhouse Theatre in Thames Barrier Park on Saturday 27 May 3-4pm.
This special Royal Docks Festival performance will feature poems, classic sea shanties and some with new lyrics exploring the hidden stories of Lascars - the Indian sailors who powered the empire's fleet and lived in London's East End. Britannia Village students worked with poet and sea shanty singer Laila Sumpton to craft their own lyrics, and they are looking forward to teaching them to the crowd for a big sing along!
The London Sea Collective will perform their songs of the sea and rivers - they are a non-audition community choir based in Dalston who have performed at the Cutty Sark, Natural History Museum, Maritime Museum, Fire in the Mountain Festival and more!
Inspired by Raqs Media Collective - The Waves are Rising, Britannia Village Primary school collaborated with Laila Sumpton from the London Sea Shanty Collective. Year 5 students rewrote sea shanty lyrics weaving colonial history, rising sea levels and shipping to capture the Lascar experience.
For your visit
Art & Culture
Making Space: Go the Distance
Installation artwork by Jessie Brennan, created with Peacock Gym by collecting images from the archive of this renowned community boxing hub.
Art & Culture
Making Space: Take Your Place
This final part of Jessie Brennan's public art series was created in collaboration with the sports communities at Royal Docks Adventure.
Places To Stay
Aloft London ExCeL
Four-star Marriott hotel with a dockside restaurant terrace, wood-lined interiors, and a striking skyline.