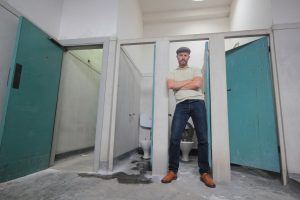 Silvertown: a new play By Jonny Wooster
It's July 1967. In an old pub along The Albert Road, Silvertown, the landlord Rachel (Raymond Spinks) is preparing to mark the passing of the 1967 Sexual Offences Act and to ask his partner Pat (Patrick Conway) to move in with him. Pat sees this as a move to curb his penchant for 'cottaging' and sets about sabotaging the evening by flirting with some dangerous 'rough trade', Reg. Sally and Jack, a couple out on their anniversary, get caught up in Pat's mischief and the arrival of 'Miss Daphne' off a ship threatens their marriage.
Jonny Wooster (aka drag artist, Jonny Woo) presents work-in-progress readings of his play in an annex of The Factory in Silvertown, re-purposed as a performance space. The play was inspired by a memory of Gay Liberation Front activist Stuart Feather about The Kent Arms, a North Woolwich pub frequented by gay men, sailors and locals in the 1960s. Jonny created the characters after talking to residents who remember the area in the 60s and senior gay men.
The staged readings of this two-act play will be presented by a full cast directed by Jo Tyabji and will be followed by a Q&A session with Jonny and contributors.
Co-commissioned by Theatre Royal Stratford East and the Royal Docks Team.
This event is supported by the Arts Council of England Lottery Fund

For your visit
Community
University of East London
UEL's docklands campus is known for its state-of-the-art sports facilities and formiddable reputation.
Food & Drink
Nakhon Thai
Thai restaurant overlooking the docks, with a Polynesian-style cocktail bar.
Community
Royal Docks Learning & Activity Centre
RDLAC has spent 50 years serving the North Woolwich community, from after-school clubs to conservation projects.