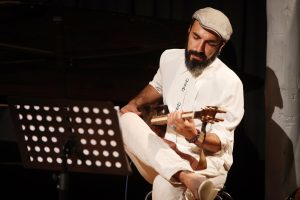 Songs from the Middle East and North Africa
Hear songs from the Middle East and North Africa performed by an ensemble of local Newham-based musicians, led by composer and musician Marouf Majidi.

The performance is the result of a community world music workshop and forms part of Dash Arts' project Dido's Bar, exploring migration, identity and Europe, which culminates in a music theatre production at Royal Docks in Autumn 2022.

For your visit
Community
University of East London
UEL's docklands campus is known for its state-of-the-art sports facilities and formiddable reputation.
Art & Culture
Making Space: Take Your Place
This final part of Jessie Brennan's public art series was created in collaboration with the sports communities at Royal Docks Adventure.
New Arrival
Business
Expressway London
Expressway is a community of almost 200 thriving businesses facing onto Royal Victoria Dock. Recognised as a place where creative enterprises, SMEs and start ups can flourish, no two of their businesses are alike but all are like minded.