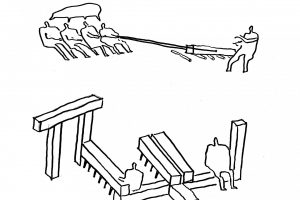 St John's Green Design Workshop
Have a go at designing seating, outdoor ovens and a green roof canopy for St John's Green, at this workshop organised by RDLAC.
A design workshop day led by Muf Architecture. This exploration at scale and at 1:1 will be used to inform a build week in July to help up-skill young people in creative furniture design and building for outdoor spaces. This will include various possibilities including seating areas, outdoor ovens and a green roof canopy. This also explores the boundaries young local people face in finding employment whilst enhancing the local Green, itself a boundary between a bustling road and residential area.
Image: Jon Shmulevitch, Muf Architecture.
For your visit
Activities
Fight For Peace
Boxing and martial arts club helping young people affected by crime and violence achieve their potential.
Community
North Woolwich Library
This is more than a library; here you'll find a homework club, model railway society, and more.
Food & Drink
The Girl of Sandwich
Primarily a takeaway, this sandwich shop is popular with locals and workers alike.