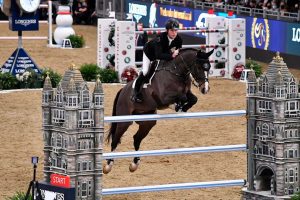 Conferences
The London International Horse Show
The UK's most important equestrian indoor event featuring three FEI World Cup™ classes in Dressage, Showjumping and Driving.
Alongside the world class competition there are equestrian displays, The Kennel Club Dog Agility, The Shetland Pony Grand National and the Christmas Finale, featuring Father Christmas himself.
Plus there's more than 200 shops offering all things equestrian, clothing, Christmas gifts, food, homeware and art. Stay for the day and enjoy yourself at this wonderful Equestrian Christmas Party!
For your visit
Food & Drink
Top 1 Forever
Modern British restaurant overlooking of the water, with a wood-fired oven.
Art & Culture
RAW Labs
Sample an impressive range of art events and workshops, or just the great coffee, at this Bow Arts caff.
Community
Britannia Village Hall
A hall-for-hire that holds 200; home to multi-faith activities, exercise classes, English lessons, and more.
Similar events