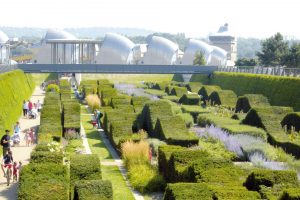 Events
Tour of the Thames Barrier Park
Take a tour of one of London's largest parks, guided by Architect Andrew Taylor. The innovative use of landscape architecture, materials and planting has transformed a once derelict brownfield site into a rich and inviting public space. The 9ha area, covering the north bank of the River, was one of the most important landscape and urban design challenges of recent years. The space marries together the natural form of the park with the surrounding industrial docklands, creating a harmonious and enticing public recreation area. Andrew will talk through Patel Taylors design decisions which lead to the park becoming a special place of cultural significance with its own clear identity.
Part of London Festival of Architecture 2022
Book free tickets:
For your visit
New Arrival
Food & Drink
The Windjammer
The Windjammer is a stunning pub with a big focus on fresh, seasonal food, a community atmosphere and exceptional service.
Places To Stay
Holiday Inn Express
There's unlimited breakfast at this three-star hotel right next to Royal Albert DLR.
New Arrival
Food & Drink
The Royal Standard
The Royal Standard has re-opened under new management as a family-run pub that welcomes everybody, including children until 6pm.