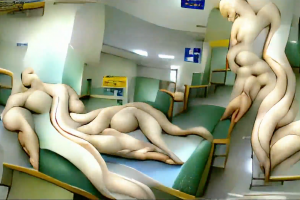 Art & Culture
Towards a Cosmotechnic Psychedelia: film screenings and panel discussion
Towards a Cosmotechnic Psychedelia explores topics such as alternate states, entity encounters, and differing ethical, moral, and social forces, as described in Yuk Hui's concept of 'cosmotechnics.' This framework continues to shape psychedelics and plant medicine tools used by communities in the global south of Putumayo, Colombia, alongside affluent Western contexts.

The event features the experimental documentary True Hallucinations by Péter Bergmann based on Terence McKenna's book, followed by contemporary takes on McKenna's lifework by artists Ursula Biemann, Patricia Dominguez, Andrea Khora, Suzanne Triester, and Rebeca Romero. The panel includes artist Helen Knowles, clinical trials manager Catherine Bird, and artist Andrea Khora, with contributions from Dr. Hernando Chindoy Chindoy, former Inga Community Leader.

The event arises from Helen's current PhD research entitled "More Than Human Healthcare". For this project, she collaborates with the Psychedelic Trials Team at Kings College London, The London AI Centre, and with members of the Inga community in Putumayo, Colombia. With thanks to Northumbria University and King's College London for supporting the event.

For your visit
Art & Culture
The Silver Building
Once the offices of Carlsberg-Tetley, this concrete block now offers workspaces to dozens of creative businesses. Look out for their regular events and exhibitions.
Art & Culture
Millennium Mills
Derelict early 20th century flour mill turned screen icon; this Royal Docks landmark is due to be redeveloped.
Food & Drink
Galyons Bar & Kitchen
This 19th-century dockside inn has recently been reborn as a waterside gastropub.