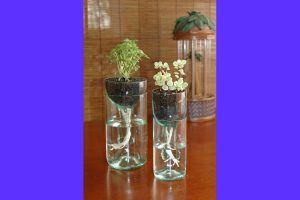 Transforming Waste Bottles into Beautiful Self Watering Plant Pots
Join Disha Trevedi for an exciting activity where you can turn waste bottles into vibrant self - watering plant pots, while discovering the incredible benefits of recycling glass and embracing the power of creativity!
During the activity, we'll guide you through the step-by-step process of upcycling waste bottles into unique plant pots. Using paints, markers, and decorative materials, you'll have the opportunity to express your creativity by personalizing your plant pots so get ready to let your imagination soar!
Once your plant pots are decorated, Disha will guide you in planting small saplings or seeds, symbolizing the beginning of a new cycle and growth. There will also be tips on plant care, including watering, sunlight requirements, and nurturing techniques, to ensure your plant pot thrives and adds beauty to your surroundings. Let's create a greener future together!
Join us for this engaging activity, where recycling meets creativity, and waste transforms into beauty. Together, we'll foster a more sustainable world, one recycled bottle at a time.
Commissioned by the Dock Local Panel as part of their Summer Events Programme, responding to the theme of sustainability. This event is part of Royal Docks Summer Splash. You will need a wristband if you would like to swim on the day.
For your visit
Food & Drink
Fox@ExCeL
Relaxed pub sprawling across different rooms of an old tobacco warehouse.
Food & Drink
Airline Cafe
No one complains about all-day breakfast for under a fiver. Right next to the ExCeL, this cafe-diner opens early to late.
Art & Culture
Making Space: The People's Plan
Large-scale artwork reproducing 'The People's Plan for the Royal Docks,' a 1980s community-led project to oppose the airport.