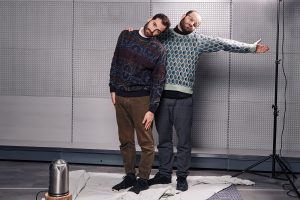 Join the Docks
Unfamiliar to Us
Following the lockdown coming into effect in England on 5 November, we have reviewed the 'Unfamiliar to Us' which was due to take place from the 14 November to 5 December at the Silver Building, and have decided to reschedule this event. New dates will be announced shortly.
You won't want to miss the screening of Unfamiliar to Us, a new and immersive video installation by visual artist Yorgos Petrou and performance artist Victor Esses in partnership with Queer Newham, which focuses around the making of a queer family.
This is a frank, autobiographical and experimental film based on life partners exploring their experiences of deciding to have a baby together. Footage will be shot in the artists' own home using different camera perspectives to capture the couple's performance.
Drawing upon conversations and interviews with queer parents, surrogates and adult children of unconventional families, as well as exploring themes of visibility and survival, the artists confess and confront their fears and hopes using movement to express their feelings and text to map out their history together.
Due to the current restrictions, this project has been postponed. More details coming soon, please check back here, follow our Facebook, Twitter and Instagram, or register for our newsletter to find out more.

---
Further information on the latest government guidelines can be found here: https://www.gov.uk/guidance/new-national-restrictions-from-5-november
For further information on 'what you need to know' the Mayor of London has published information on the London.gov website which can be found here: https://www.london.gov.uk/coronavirus/coronavirus-what-you-need-know
For your visit
Community
University of East London
UEL's docklands campus is known for its state-of-the-art sports facilities and formiddable reputation.
Community
Royal Wharf Community Dock
From adult ballet classes to dance and drama classes for kids, this new centre in the heart of Royal Wharf has begun with a bang.
Art & Culture
Making Space: Go the Distance
Installation artwork by Jessie Brennan, created with Peacock Gym by collecting images from the archive of this renowned community boxing hub.