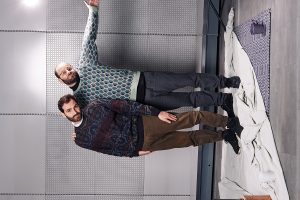 Unfamiliar to Us
What does 'family' mean, particularly if you're queer? In this immersive video installation, visual artist Yorgos Petrou and performance artist Victor Esses explore their desire to have children, with all the memories, experiences and fears that arise from that.
Beautifully intimate, full of gentle humour and tender moments, Unfamiliar to Us is a stripped-back autobiographical piece about being queer, wanting children and, ultimately, the human need to create a legacy.
Shot in one continuous take, the film of the performance crosses the lines of live art, theatre, film and performance art. The installation is made up of multiple screens and objects so you can choose the angle you watch from – the eyes, the feet, the interior of the home.
Screen times. weekdays: 11:00, 12:10, 13:20, 14:30, 15:40
Saturdays: 11:00, 12:10, 13:20, 14:30, 15:40, 16:50
No booking necessary.
Duration: approx. 1 hour
It is suggested that you watch the whole screening but you are welcome to pop in and out at any point.
For your visit
Food & Drink
Il Volo
Il Volo serves Italian comfort food that salutes the docks' history at the centre of world trade.
Food & Drink
Top 1 Forever
Modern British restaurant overlooking of the water, with a wood-fired oven.
Food & Drink
Galyons Bar & Kitchen
This 19th-century dockside inn has recently been reborn as a waterside gastropub.