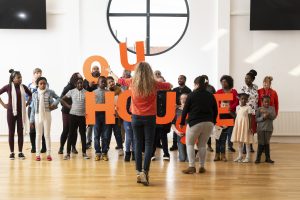 UP Projects Art Installation
Comprising four large-scale artworks, Jessie Brennan's new commission takes visitors on a journey through the historic, social, political and economic factors that have impacted the area and shaped its identity.
Jessie Brennan's artwork interprets,
Histories — drawing on lesser known heritage to create the conditions to imagine alternative futures.
People — identifying previously lesser celebrated local champions through engaging local communities.
Ecology — communicating the unique ecological aspects of the site – its connection to water, the docks, ecological aspects.
Designed to connect with and engage the local community, the final four art installations can be viewed across Royal Docks at the following locations.
Victoria Dock, Victoria Dock Road, E16 3BT
Dock Road Underpass, 1 Dock Road, E16 1AG
Custom House Gateway, Junction of Freemasons Road and Victoria Dock Road, E16 3BT
Royal Docks Adventure, 1012 Dockside Road, E16 2QT
For your visit
Activities
NASSA Sport
Community basketball club for 8 to 18 year-olds from Newham, in partnership with UEL.
Food & Drink
Top 1 Forever
Modern British restaurant overlooking of the water, with a wood-fired oven.
Community
Asta Community Hub
Asta takes a holistic approach, supporting the North Woolwich and Silvertown community from birth to old age.