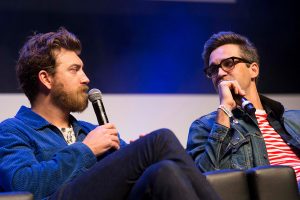 Events
VidCon London 2020
VidCon is the world's largest event for fans, creators, executives and brands who are passionate about online video and building diverse communities. The flagship show, VidCon US, recently celebrated its 10th anniversary, welcoming 75,000 attendees and over 100 brand exhibitors.
VidCon continued its global expansion this year, announcing the first ever VidCon Asia Summit, which is set for December 2019, and VidCon Mexico, coming in 2020, adding to its roster of international events in Australia and London. VidCon was founded by veteran YouTube creators John and Hank Green (Vlogbrothers) and was acquired by Viacom in 2018.
For your visit
Activities
Emirates Air Line
This cable car flying between the Royal Docks and North Greenwich offers panoramic views of the river.
Activities
Wakeup Docklands
Wakeboarding, paddleboarding, and paddleboard yoga – for beginners and back-flippers alike.
Food & Drink
Nakhon Thai
Thai restaurant overlooking the docks, with a Polynesian-style cocktail bar.