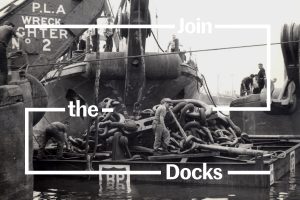 Voices of the Docks
Eastside Community Heritage is bringing the memories and experiences of Newham's Royal Docks to life through the voices of the people integral to its history. This series of walking tours for all ages takes visitors from the Silvertown Explosion in 1917 and aerial bombardment during World War II, to mass strike action and industrial redevelopment. This summer, you can explore the countless events and institutions that represent such an integral part of London's heritage.
Voices of the Docks will use interview sound clips, as well as historic photographs and videos, to tell the tale of the docks in an accessible and enjoyable way for people of all ages, with special activities for children.

Running along the newly-opened North Dock Walkway and providing stunning views along the 3.8km promenade, the walk will meet at The Crystal, ending at the Sir Steven Redgrave Bridge at the eastern end of the Royal Albert Dock.

This event is fully accessible; the walkway is fully accessible along a paved and cobbled surface, with DLR stations in close proximity to both the beginning and end of the tour.

This event is free, but the organisers ask that you book your place. Free tickets are available for booking on the following dates:

Wed 24 July, 10am–12pm
Wed 31 July, 3pm–5pm
Tues 6 August, 10am–12pm
Sun 11 August, 5pm–7pm
Thurs 15 August, 12pm–2pm
Fri 23 August, 12pm–2pm
Tues 27 August, 12pm–2pm
Sat 31 August, 2pm–4pm

For your visit
Art & Culture
Making Space: Go the Distance
Installation artwork by Jessie Brennan, created with Peacock Gym by collecting images from the archive of this renowned community boxing hub.
Food & Drink
Tapa Tapa
Tapas at this red-bricked Spanish place just inside the ExCeL comes traditional or with a modern twist.
Food & Drink
Fox@ExCeL
Relaxed pub sprawling across different rooms of an old tobacco warehouse.