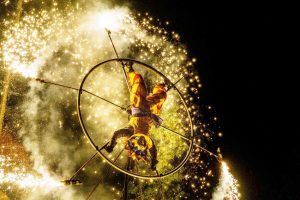 Join the Docks
Wishful
Inspired by the Thai festival of Loi Krathong, Wishful is a magical spectacle of water and light. Walk through the gigantic illuminated mechanical garden and watch as the floating wishing shrines are launched into the water, lighting the way for a show of gliding giant swans, and operatic moon goddess. The night ends in a shower of pyrotechnics against the backdrop of Millennium Mills.

This is the latest large-scale touring offer by Emergency Exit Arts.
More information about the event.
For your visit
Food & Drink
China Palace
Dim sum, karaoke, and tradition Chinese cuisine next to the ExCeL centre.
Food & Drink
Airline Cafe
No one complains about all-day breakfast for under a fiver. Right next to the ExCeL, this cafe-diner opens early to late.
Activities
The Quad Club & Spa
This spa, swimming pool and gym in the Crown Plaza Hotel offers calming treatments and classes.
Similar events