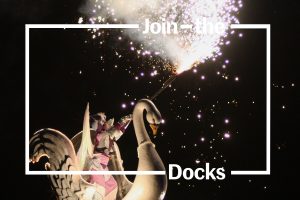 Join the Docks
Wishful
Inspired by the Thai festival of Loi Krathong, Wishful is a magical spectacle of water and light. Walk through the gigantic illuminated mechanical garden and watch as the floating wishing shrines are launched into the water, lighting the way for a show of gliding giant swans, and operatic moon goddess. The night ends in a shower of fireworks against the backdrop of Millennium Mills.

This is the latest large-scale touring offer by Emergency Exit Arts.
For your visit
Attractions
The Crystal
One of the world's most sustainable buildings imagines the future of cities with a ground-breaking exhibition.
Food & Drink
Nakhon Thai
Thai restaurant overlooking the docks, with a Polynesian-style cocktail bar.
Places To Stay
Aloft London ExCeL
Four-star Marriott hotel with a dockside restaurant terrace, wood-lined interiors, and a striking skyline.