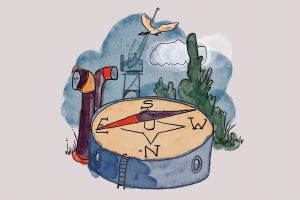 Art & Culture
Wondering Wanders in the Royal Docks
Why not explore the Royal Docks this Autumn and Winter with these self-guided activity trails for families, children and curious ramblers? These can be enjoyed safely, at a social distance, any time you'd like! Download a map and embark on our family trails for adventures through the Royal Docks. Become Wandering Wonderers, completing challenges as you go and discovering brilliant stories, both real and imagined.
'Seeking the Sleeping Giant' is good by foot (around 45 minutes) and 'Ride to the Heart of the Docks' by bike (around 30 minutes).
You can download the maps here:
Seeking the Sleeping Giant [Download Map PDF 5mb]
Ride to the heart of the docks [Download Map PDF 5mb]
Or pick up a map at:
Expressway, Royal Victoria Docks
Britannia Village Hall
West Silvertown Foundation
Royal Docks Learning + Activity Centre
Newham Dockside
Commissioned by the Royal Docks Team, and produced in collaboration with immersive yarn spinners, Patchlarks and local graphic designers Lunes.
Explore the Royal Docks on a Brompton
On the flip side of the map you'll find a guide for your very own bike tour along the Docks. Why not try it out on a Brompton? You can rent one of these nippy folding bikes from £3.50 or treat yourself to a subscription as part of the Brompton Bike Hire scheme. These lightweight bikes are super easy-to-use and there's a no fuss reservation system that works online or by SMS. While you can rent them from Victoria Dock (adjacent to the Crystal building) you can return them at any available Brompton docking station around the city. The best thing is that they are super compact and travel well on public transport, so if your legs get tired you can jump on public transport - including the DLR which loops around the Docks and offers exciting viewpoints of London's most dynamic district.
For your visit
Art & Culture
Making Space: Go the Distance
Installation artwork by Jessie Brennan, created with Peacock Gym by collecting images from the archive of this renowned community boxing hub.
Places To Stay
Premier Inn
Perfectly positioned for access to the ExCeL.
Places To Stay
Aloft London ExCeL
Four-star Marriott hotel with a dockside restaurant terrace, wood-lined interiors, and a striking skyline.