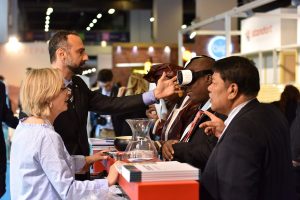 Conferences
World Humanitarian Forum
International thought leaders gather at the ExCeL centre this month for the World Humanitarian Forum. Addressing a critical juncture in which more people are displaced from their homes than ever before, the forum will engage in future-focused dialogue to shape the future of international development.
Located alongside Aid & Trade London, International Disaster Management Exhibition, and Emergency Show, the Forum's keynote speakers this year are Tony and Cherie Blair. The organisers expect participants from over 50 countries.
For your visit
Activities
The Quad Club & Spa
This spa, swimming pool and gym in the Crown Plaza Hotel offers calming treatments and classes.
Places To Stay
Aloft London ExCeL
Four-star Marriott hotel with a dockside restaurant terrace, wood-lined interiors, and a striking skyline.
New Arrival
Art & Culture
Making Space: Go the Distance
Installation artwork by Jessie Brennan, created with Peacock Gym by collecting images from the archive of this renowned community boxing hub. Part 1 of 4.
Similar events