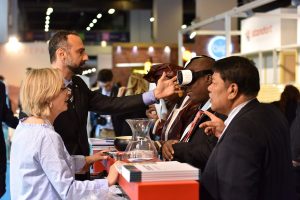 Conferences
World Humanitarian Forum
International thought leaders gather at the ExCeL centre this month for the World Humanitarian Forum. Addressing a critical juncture in which more people are displaced from their homes than ever before, the forum will engage in future-focused dialogue to shape the future of international development.
Located alongside Aid & Trade London, International Disaster Management Exhibition, and Emergency Show, the Forum's keynote speakers this year are Tony and Cherie Blair. The organisers expect participants from over 50 countries.
For your visit
Activities
Emirates Air Line
This cable car flying between the Royal Docks and North Greenwich offers panoramic views of the river.
Business
ExCeL London
The international convention centre has hosted everything from Comic Con to the Olympics.
Places To Stay
Aloft London ExCeL
Four-star Marriott hotel with a dockside restaurant terrace, wood-lined interiors, and a striking skyline.
Similar events