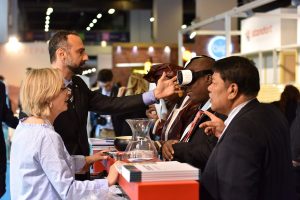 Conferences
World Humanitarian Forum
International thought leaders gather at the ExCeL centre this month for the World Humanitarian Forum. Addressing a critical juncture in which more people are displaced from their homes than ever before, the forum will engage in future-focused dialogue to shape the future of international development.
Located alongside Aid & Trade London, International Disaster Management Exhibition, and Emergency Show, the Forum's keynote speakers this year are Tony and Cherie Blair. The organisers expect participants from over 50 countries.
For your visit
Food & Drink
Heroica Lounge
It's a bus, it's an Italian restaurant; you decide whether to order pizza or pretend to drive.
Food & Drink
Airline Cafe
No one complains about all-day breakfast for under a fiver. Right next to the ExCeL, this cafe-diner opens early to late.
Places To Stay
Sunborn London
Luxury accommodation on board a superyacht minutes from ExCeL London.
Similar events