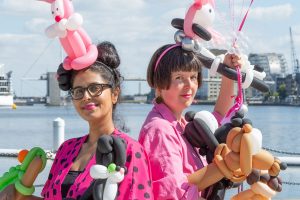 Royal Docks Originals
Yara + Davina's Pet Balloon Service
How did you decide what to name your pet? From places to locations, the process of turning a word into a name can have a fascinating tale and artist duo YARA + DAVINA want to hear them. For this joyful public artwork, they're giving away balloon animals in the Royal Docks in exchange for stories about why people name their pets.
Locations:
16 October – Royal Victoria Dock (close to Oiler Bar E16 1AG)
23 October – Thames Barrier Park E16 2HP
30 October – Royal Docks Originals Family Weekender at RAW Labs (close to Well Bean Café E16 2GU)
Suitable for all ages.
For your visit
Community
Henley Arms
A local fixture since 1901, this pub seems untouched since its post-war refurbishment. Step back in time and enjoy a pint over a game of darts.
Activities
NASSA Sport
Community basketball club for 8 to 18 year-olds from Newham, in partnership with UEL.
New Arrival
Food & Drink
The Windjammer
The Windjammer is a stunning pub with a big focus on fresh, seasonal food, a community atmosphere and exceptional service.
Similar events