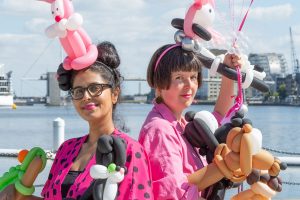 Yara + Davina's Pet Balloon Service
How did you decide what to name your pet? From places to locations, the process of turning a word into a name can have a fascinating tale and artist duo YARA + DAVINA want to hear them. For this joyful public artwork, they're giving away balloon animals in the Royal Docks in exchange for stories about why people name their pets.
Locations:
16 October – Royal Victoria Dock (close to Oiler Bar E16 1AG)
23 October – Thames Barrier Park E16 2HP
30 October – Royal Docks Originals Family Weekender at RAW Labs (close to Well Bean Café E16 2GU)
Suitable for all ages.
For your visit
Places To Stay
Premier Inn
Perfectly positioned for access to the ExCeL.
New Arrival
Business
Duffy London
Duffy London is a Design Studio from Christopher Duffy producing ideas-based pieces of modern furniture and sculpture. The studio combines art with function to design and manufacture a range of limited edition collections that play on the concepts of gravity, geography, and illusion.
Activities
SportsDock
State-of-the-art UEL sport facilities, offering martial arts, table tennis, badminton, and more.