Regeneration news
Mayor hails start of landmark £3.5bn east London regeneration as he visits historic Millennium Mills building
Regeneration of Millennium Mills has eluded Mayors and Governments for decades but it will now be transformed into a creative workspace, creating at least 10,000 London jobs
The Mayor has led on securing funding including £80m housing grant to enable wider delivery of 1,500 homes in phase one of project, 50 per cent of which will be genuinely affordable
Silvertown will become a vibrant town centre for the Royal Docks, with 7million square feet of commercial and residential space
The Mayor of London, Sadiq Khan, has today heralded the start of a new era for London's historic Royal Docks, just a few months after moving City Hall to the area, as work gets underway on the new £3.5bn Silvertown neighbourhood. On a visit to the area's Millennium Mills today, the Mayor was shown the vision for the area as a vibrant hub of the Royal Docks, supporting 6,000 new homes and 10,000 new jobs.
City Hall is providing an £80m grant to enable the delivery of housing in phase one of the project which will see 1,500 new homes built, half of which will be genuinely affordable*, with more than 6,000 expected to be constructed in the next decade.
Serving a population of about 13,000 people, the Silvertown development, led by The Silvertown Partnership (TSP), a joint venture between Lendlease and Starwood Capital, will have a total of 7million square feet of residential and commercial space, public parks and improved access to the water including the new Silvertown Bridge and a new bridge over Royal Victoria Dock.
The regeneration of this area is long overdue and I'm excited by the plans for Silvertown which respect its past whilst embracing East London's vibrant and creative future
The Mayor of London, Sadiq Khan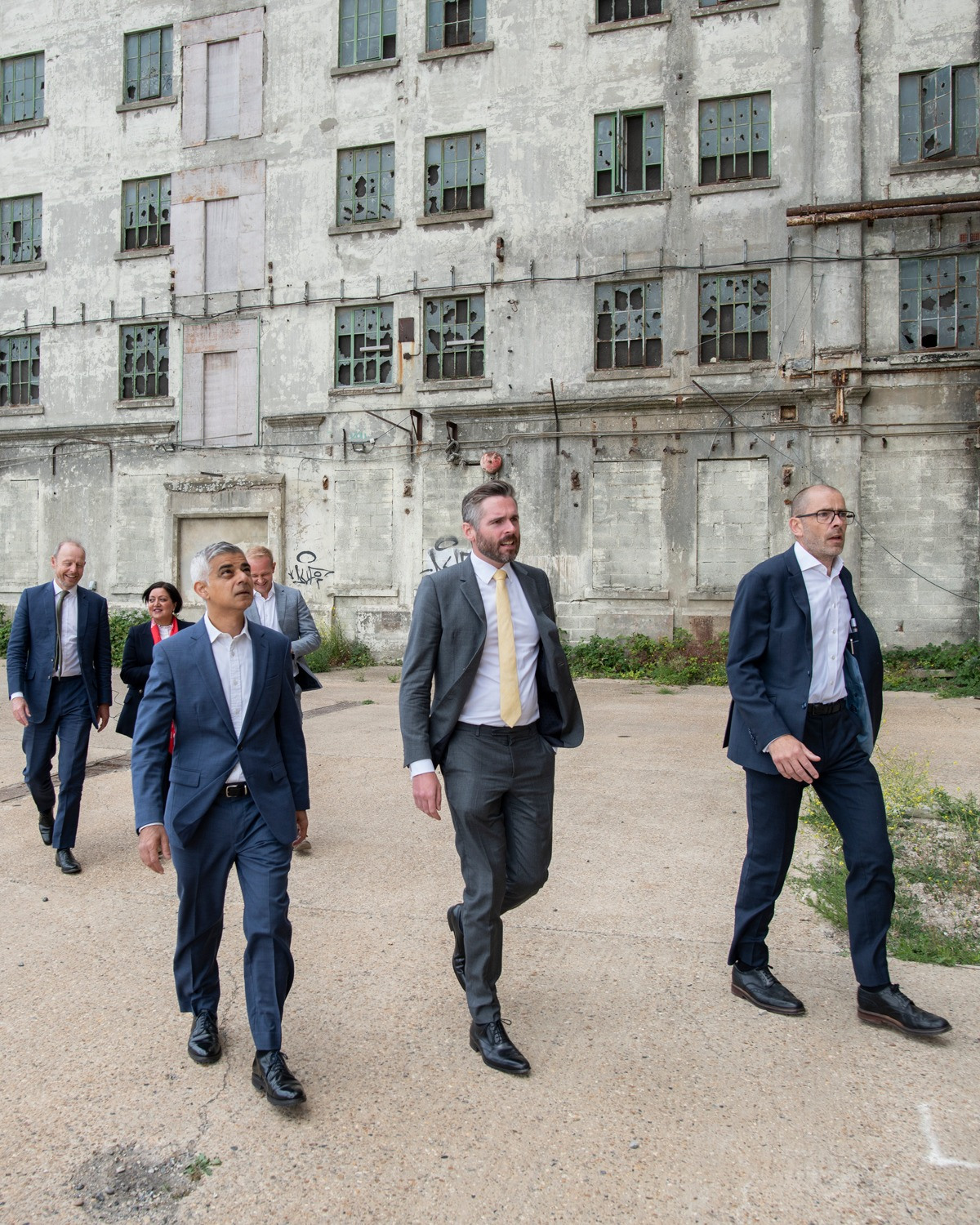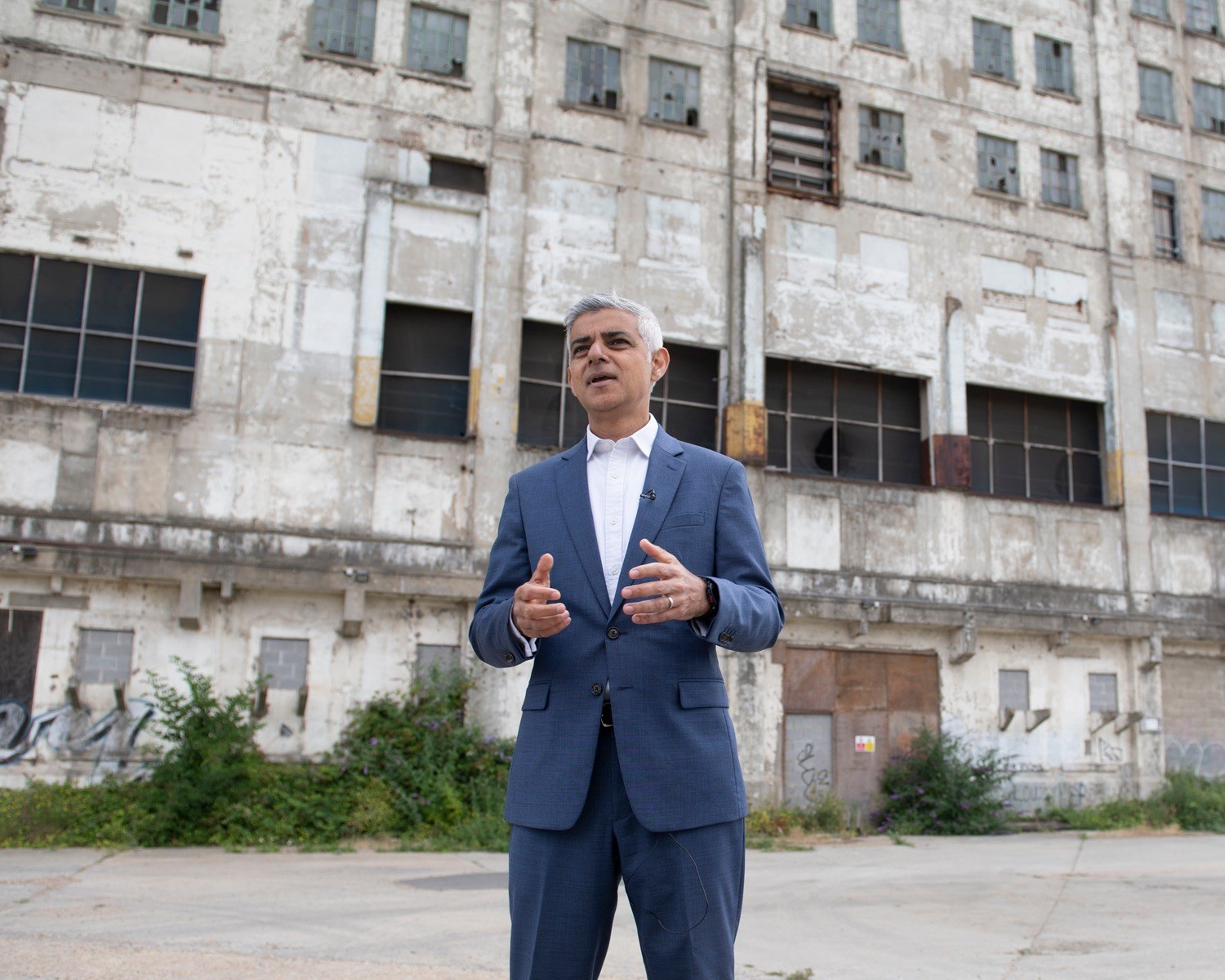 Built in 1933, Millennium Mills is an east London landmark, best known in recent years for its appearance in film and TV shows after closing in 1981. Several failed attempts have been made over the last 40 years to bring the building back into use including plans for an aquarium and luxury flats. Now both the mills and the distinctive Grade II-listed Silo D will be restored as part of the development. These will deliver 1.8m sq. ft of next-generation business workspace, as well as space for cultural and community events.
Once completed in the early 2030s, Silvertown will become a vibrant new town centre for the Royal Docks. The first homes will be ready to be occupied in 2024.
A number of important agreements have recently been finalised allowing work to start on site. They include:
The Mayor approving changes to the development agreement to increase the number of affordable homes.
City Hall providing an £80m housing grant to The Guinness Partnership (TGP) to enable the delivery of affordable housing in phase one.
Silvertown Partnership signing a deal with TGP for them to acquire 720 affordable homes in phase one of the development.
Homes England committing increased infrastructure funding totalling £233m for the project.
The Mayor of London, Sadiq Khan, said: "I am delighted to see work getting underway at this landmark East London location that has vexed planners and politicians alike for the last 40 years.
"The regeneration of this area is long overdue and I'm excited by the plans for Silvertown which respect its past whilst embracing East London's vibrant and creative future.
"Not only will this project create a vibrant new neighbourhood with 50 per cent genuinely affordable homes but it will also create highly skilled jobs while supporting the regeneration of the Royal Docks as we build a better, fairer and more sustainable city for everyone."
Rokhsana Fiaz OBE, Mayor of Newham and Co-chair of the Royal Docks Enterprise Zone Board, said: "Delivering much needed homes people can afford and a sustainable new neighbourhood, Silvertown will contribute uniquely to the revival of the historic Royal Docks and the iconic Millennium Mills. It's an exciting example of the ongoing transformation of the Royal Docks which will deliver 50 percent affordable homes and support our inclusive growth ambitions for the borough through new opportunities and jobs"
Speaking on behalf of The Silvertown Partnership, Ed Mayes the Development Director for Silvertown, said: "It's very exciting that after lying dormant for over 30 years Silvertown is now starting to come back to life, as a vibrant town centre for the Royal Docks and a new destination for Londoners. Silvertown is being revived and re-imagined as a waterside destination to deliver much needed new housing for Newham and the rejuvenation of the historic Millennium Mills. An iconic East London neighbourhood is about to awaken."
The Royal Docks is the Mayor's largest land-led regeneration project, with over 175 hectares of land in GLA ownership. 42,500 new jobs are forecast to be created in the area over the next 20 years, as well as a total of 30,000 new homes, much of which will be genuinely affordable housing.
In May, the Mayor announced that he had once again smashed his affordable housing target with 18,722 genuinely affordable homes started on London sites in 2021/22 despite The ongoing impact of the pandemic, soaring construction costs and Brexit. This is the highest number of starts since GLA records began in 2003. Last year also saw more new council homes started in London than in any year since the 1970s.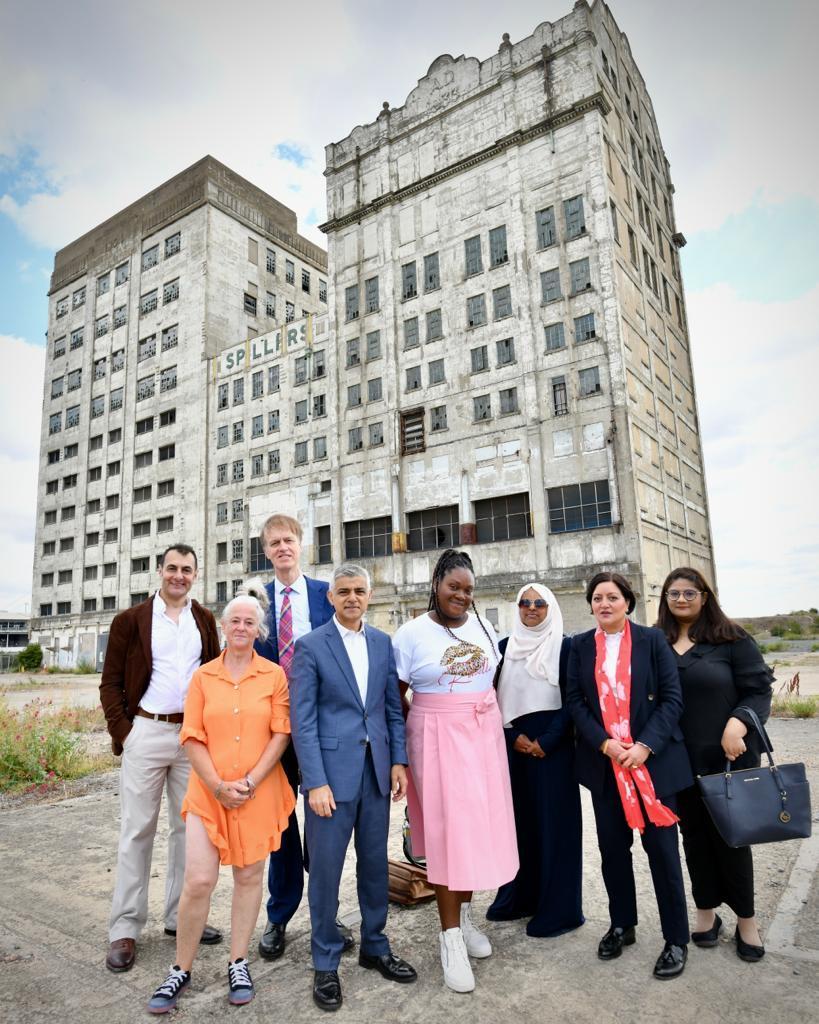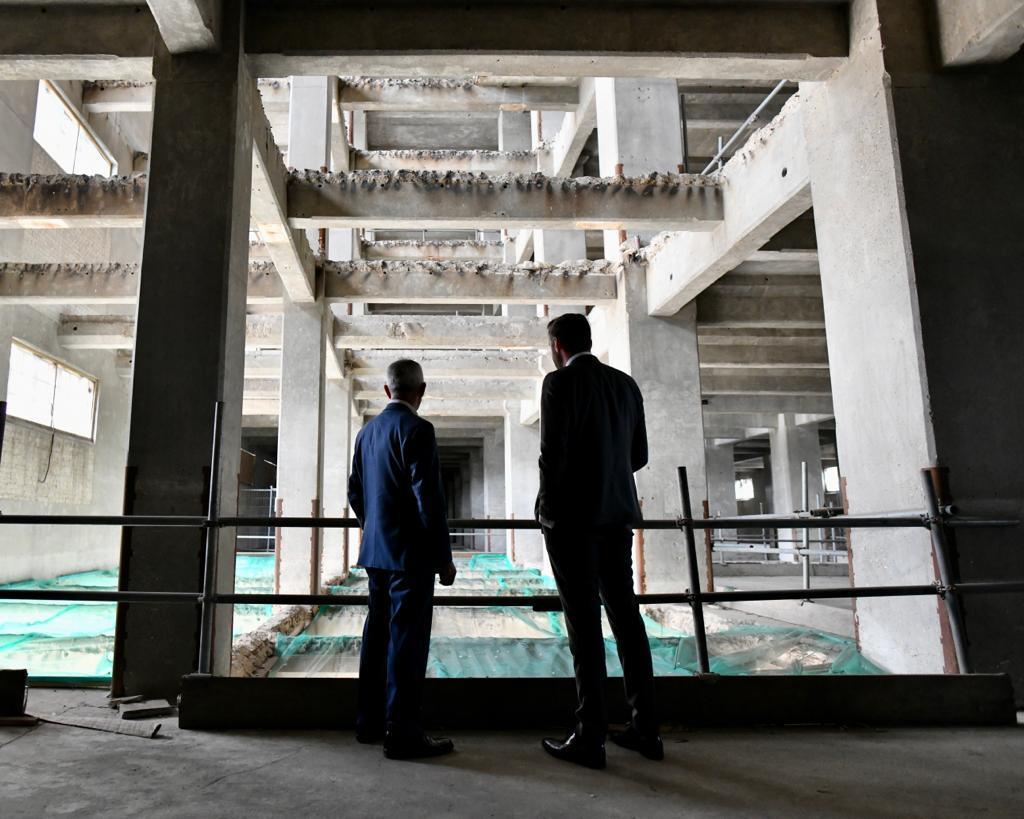 Stories from around the docks