Events
Mayor of London and Mayor of Newham visit Salisbury Primary School with Formula E driver Sam Bird
Students at Salisbury Primary School in Newham were treated to a visit from Mayor of London, Sadiq Khan and Mayor of Newham, Rokhsana Fiaz on Tuesday this week. However, it was the sight of leading British Formula E and Envision Virgin Racing driver Sam Bird and his Formula E race car that further delighted the pupils.
The Mayor of London was specifically visiting Salisbury Primary School to view an innovative new scheme they have implemented to reduce the exposure of the youngest children to toxic pollution.
Two hundred schools in areas of high air pollution will put in place measures to protect pupils from toxic air. Five of London's most polluted boroughs - Newham, Islington, Southwark, Westminster and Brent – have committed to extending the Mayor's air quality audit programme to help cut pollution in their schools. Under the Mayor's scheme, detailed air quality audits were carried out in 50 schools across 23 London boroughs. The audits assessed the air quality in some of the capital's worst polluted schools and made a series of recommendations to protect pupils. As part of the programme, the Mayor issued a £1 million fund which provided each of the 50 audited schools with a £10,000 starter grant and enabled any of the other London schools located in areas exceeding legal air pollution limits to apply for green infrastructure funding.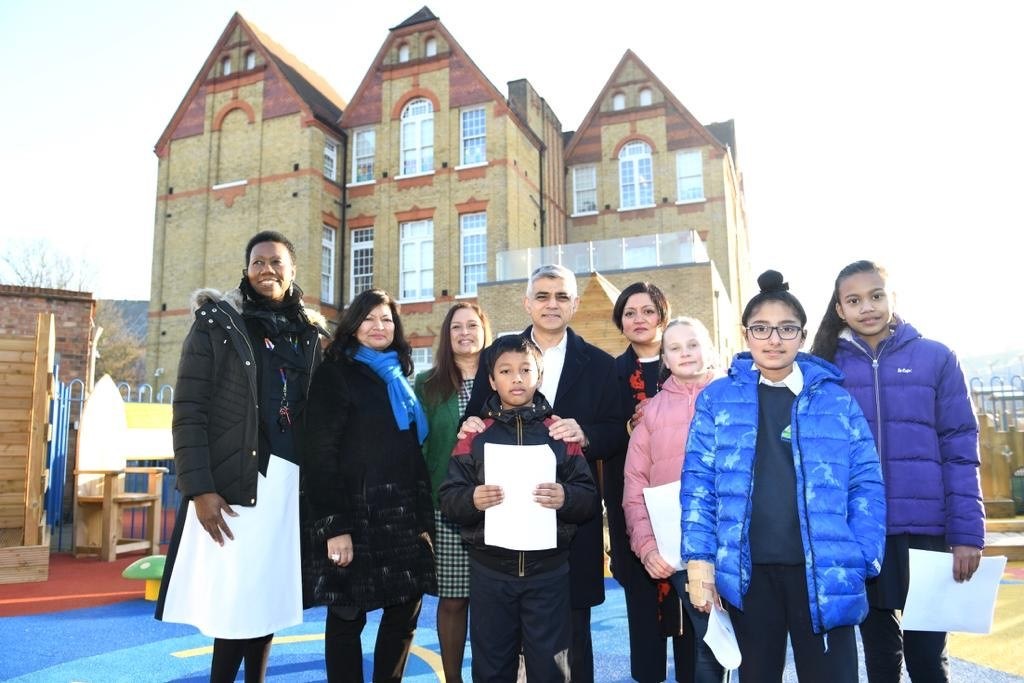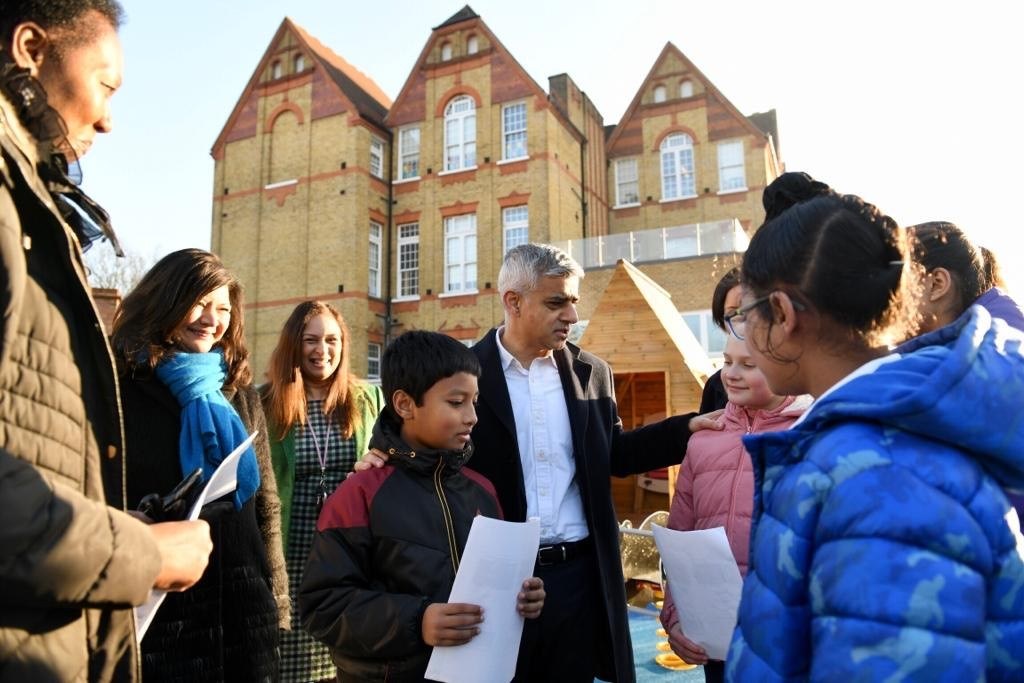 Mayor of London, Sadiq Khan, said: "London's toxic air is directly harming the health of our children. Working with boroughs like Newham, we are determined to do everything in our power to protect them and ensure future generations breathe cleaner, healthier air. It's wonderful to see Salisbury Primary School leading the way and transforming their environment into a safe, clean space for everyone. I'm delighted that other boroughs will be following their lead in expanding our innovative air quality audits to all state-run schools.
"As Mayor, I've moved as fast as I can in London to implement the most ambitious plans to tackle air pollution of any major city in the world. This includes implementing the world's first Ultra Low Emission Zone, which has already reduced harmful nitrogen dioxide pollution by almost a third in the central London zone. Government must follow London's lead and help clean up filthy air across the country. A key part of this is legally binding targets in the upcoming Environment Bill to meet World Health Organization air quality guidelines by 2030."
Salisbury Primary School in Newham received £10,000 of the Mayor's £1 million improvement fund following their audit in 2018. With additional funding from Newham Council, the school has relocated their Day Care Centre playground away from busy Romford Road, reducing the children's exposure to harmful emissions.
Headteacher at Salisbury Primary School, Andrea Choppy said: "For many years we have been very concerned over the impact of traffic pollution on the health of our children as their playground adjoined a very busy road. Our Junior Travel Ambassadors (JTA) and our school council children have worked very hard towards campaigning for better air quality around our school. They were delighted when our school was highlighted as one that would be receiving the start-up funding from the Mayor's Air Quality Audit Programme. This along with match funding from Newham Authority and further funding from the Local Authority, enabled us to install green screening on our main fence, redesign the playground and implement the changes that we have today. Our JTA's are still campaigning against idling cars on busy roads that are adjacent to our school and welcome the opportunity of working further with the Local Authority to perhaps implement a 'Red Zone' around our school."
Newham council is now extending air quality audits to all primary and secondary schools in the borough as part of a long-term air quality monitoring study. The monitoring will help target clean air initiatives which currently includes a 'Healthy School Streets' programme and 'anti-idling' campaigns – both supported by the Mayor.
Mayor of Newham Rokhsana Fiaz said: "In Newham, we have one of the youngest populations in the country coupled with some of the worst air quality. According to Public Health England, Newham has one of the highest rates for deaths attributable to air quality with seven out of every 100 linked to dirty air – that's 96 people dying prematurely each year. We also have the highest number of children admitted to hospital due to asthma-related conditions. That is why it is absolutely critical that we work together to tackle the pollution that threatens all our lives, particularly our children.
"Working together with the Mayor of London we have identified some our most affected schools and I'm delighted that we have been able to make these crucial changes at Salisbury school. But it's not just about mitigating the worst effects of poor air quality, here in Newham we are funding an ambitious project called Newham Climate Now which over the coming months and years will clean our environment and tackle climate change so that our future generations can grow up in a safer, cleaner and greener borough."
The Mayor joined the Mayor of Newham and pupils with leading British Formula E and Envision Virgin Racing driver Sam Bird to see the Formula E race car and learn how the ABB FIA Formula E Championship is helping to innovate electric vehicle technology and support London's electric vehicle revolution. The fully-electric racing series will return to London for their first-ever event in the Royal Docks, (borough of Newham) on the 25th & 26th of July at ExCeL London using a world's first indoor/outdoor circuit. Formula E aligns perfectly within the Royal Docks Enterprise Zone, which is establishing itself as a testbed for innovation and green enterprise while supporting local economic development and promoting good growth.
Envision Virgin Racing British race driver, Sam Bird said: "It's been great to visit Salisbury Primary School today with the Mayor of London to raise awareness of both the championship and the future of electric vehicles. As a leading Formula E team, we're working hard to engage with those affected worst by pollution - particularly in the cities we race in - with our initiative the Race Against Climate Change. It was really inspiring to see that this topic is so important to the next generation too, with the children of Salisbury Primary working hard to make a change for the better."
Salisbury Primary School will also benefit from strict new Low Emission Zone (LEZ) standards introduced across London for heavy vehicles in just 9 months (26 October 2020). The LEZ was set up to encourage the most polluting heavy diesel vehicles driving in the Capital to become cleaner. As a result of these measures and the expansion of the Ultra-Low Emission Zone up to the North and South circular roads in 2021, we expect reductions in toxic road transport nitrogen oxide emissions of around 30 per cent across London in 2021.
Stories from around the docks