Regeneration news
Newham Sparks paves way for Royal Docks data innovation
The launch of Newham Sparks introduces a new focus on inclusive data innovation in East London, placing the Royal Docks at the heart of the next wave of cutting edge technology.

The next generation of groundbreaking technology businesses will focus on cutting-edge ideas like augmented reality, robotics, and artificial intelligence, as well as things that currently sit at the edge of the possible. We want the Royal Docks to become an epicentre for this next wave of data, but we want to take an inclusive approach that puts people at the centre. That means positioning the Royal Docks to give our amazingly talented locals a chance to be part of this exciting future.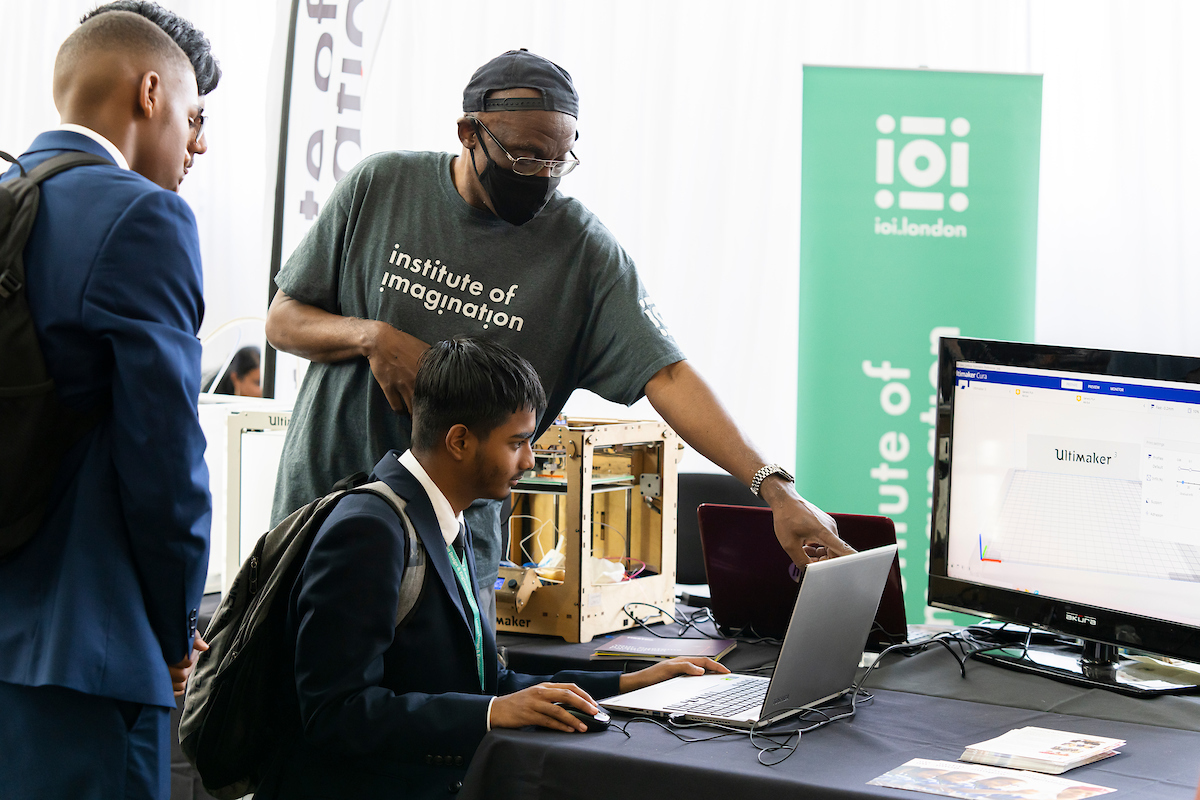 A new focus on placing data at the heart of the future of the Royal Docks - both economically and socially - was big news at the launch of Newham Sparks at London Tech Week 2021. Newham Sparks is an invitation for people, businesses and investors to come and be part of something incredible, because Newham is the perfect place for this next step in the technology evolution.
The Newham Sparks launch, sponsored by Royal Docks Enterprise Zone, was held in the Factory in Silvertown at the end of September. There, Mayor of Newham Rokhsana Fiaz and her strategic advisor for Newham Sparks, Omid Shiraji, were joined by technology entrepreneurs and speakers from local organisations. This included Pepper, as the London Design and Engineering University Technical College presented their social robot – it can even recognise faces and emotional expressions.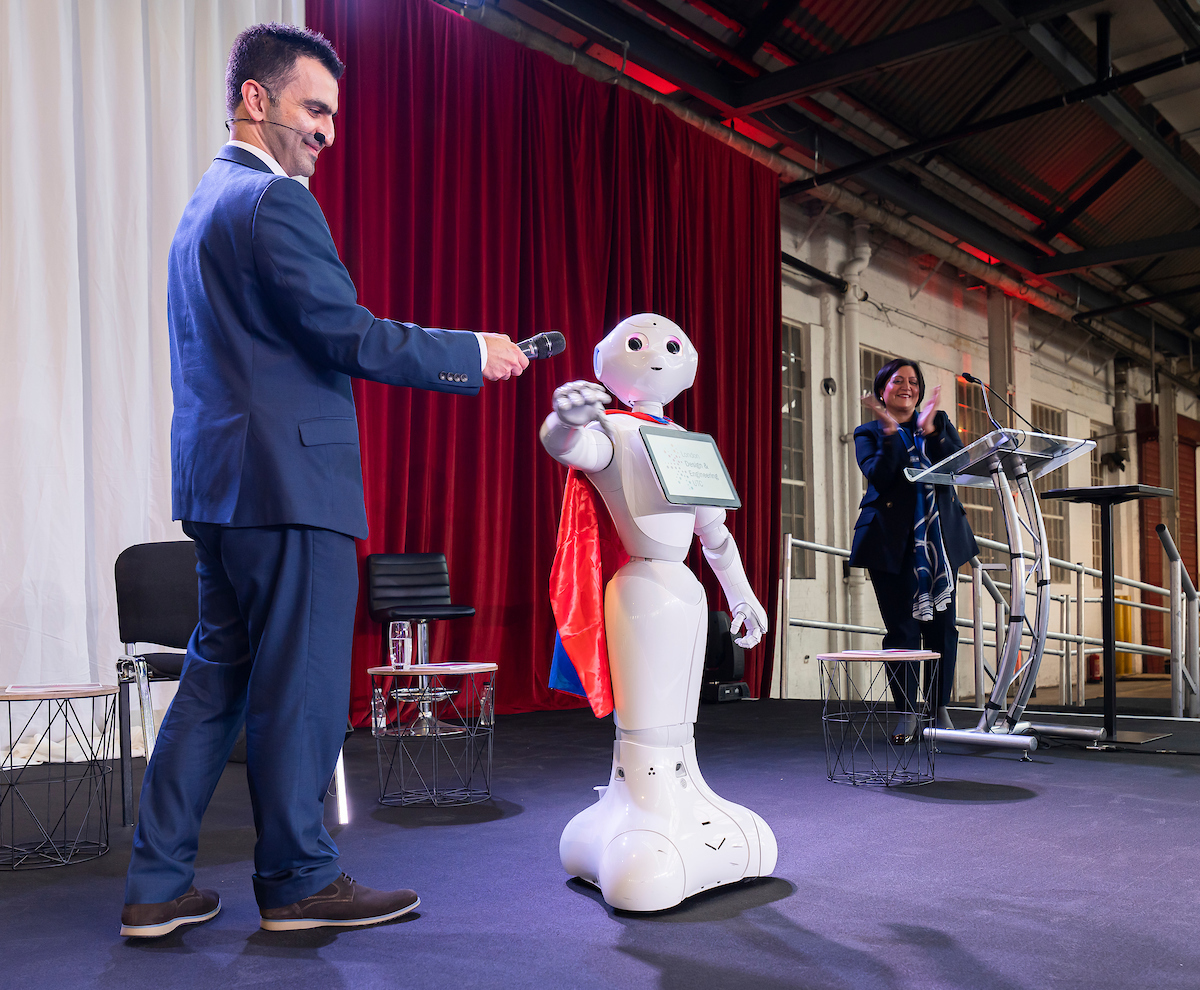 In the Royal Docks, supply meets demand
The Newham Sparks launch set a high bar. This isn't just about attracting digital businesses, but creating a data corridor, running all through East London from the Lower Lea Valley through the Royal Docks and up to the Olympic Park at Stratford.
As we lay down the tracks for the Royal Docks to become a data hub, we're inviting everyone to join us in exploring how we can address these three questions for Newham:
How can we create learning opportunities, skills and jobs for the future? How might private companies and education groups work together to close the data skills gap?
How can we address the climate crisis? How might different sectors work together to use data to tackle the climate crisis in Newham?
How can we develop the data sector? How might we create the right conditions for the data sector to flourish while also ensuring equal opportunities?
Newham Sparks will prioritise ideas that address the three questions above, in a way that can be feasibly delivered and are financially sustainable.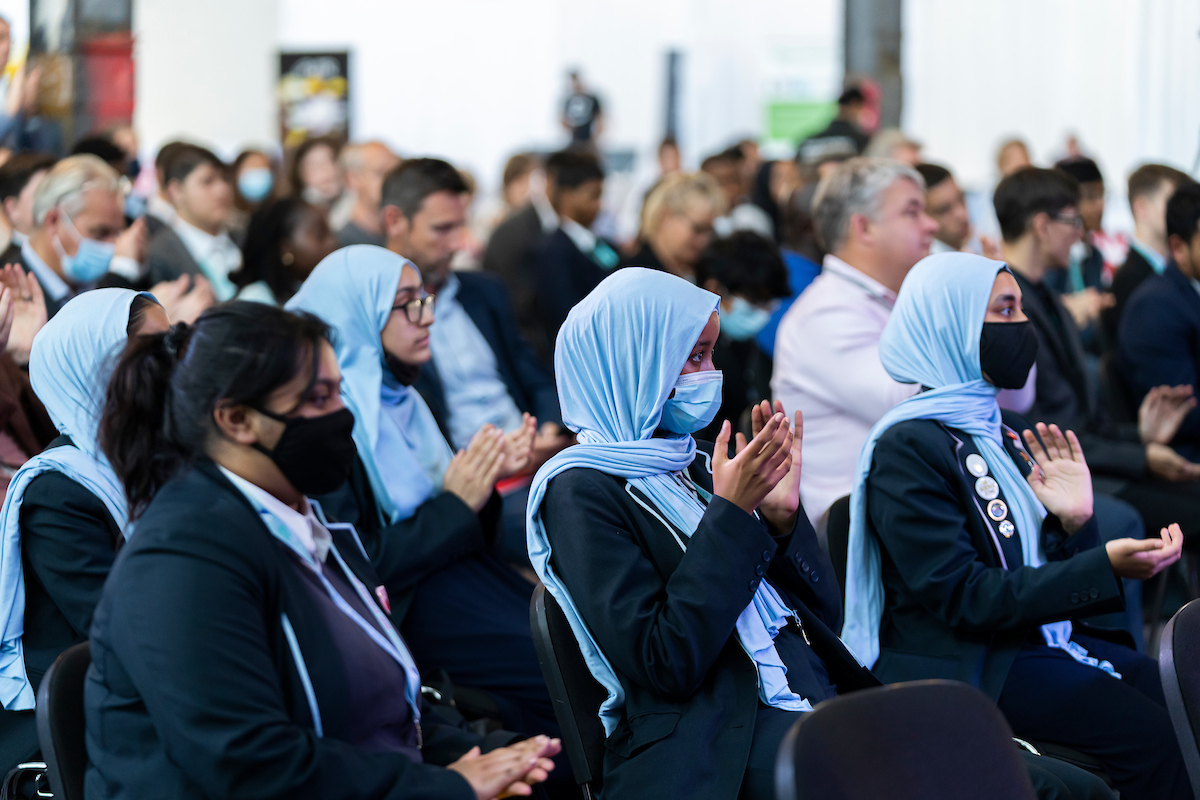 The data hub needs diversity, trained people, and power
A key priority is tapping into the talent that's latent in the Royal Docks. We often hear that Newham is a diverse borough – 73% of our residents are minority ethnic – but our already young borough is getting younger too: in 15 years, we will have more people under 24 than over. Newham needs more skilled and creative jobs that will let our incredibly talented locals reach their goals. "We've got the appetite, the infrastructure and a population which is very young, skilled, agile and early [digital] adopters to be able to seize the opportunities in the context of inclusive growth," Rokhsana said to 'Computer Weekly'.
Newham Sparks fits right in with the Government's plan to make Britain the world's leading data destination, with environmental sustainability at the heart of development. A few tasters of what this might look like were delivered at the launch event, starting with the keynote speech by Professor Sugata Mitra, the pioneer of so-called minimally invasive education. His Hole in the Wall experiment was designed to show that children can be taught computers without any formal training. In this trial, kids were allowed to use a computer however they wanted, and the professor was amazed to find that they would gain in skills without intervention, because, he told his Royal Docks audience, kids learn best when they are communally engaged.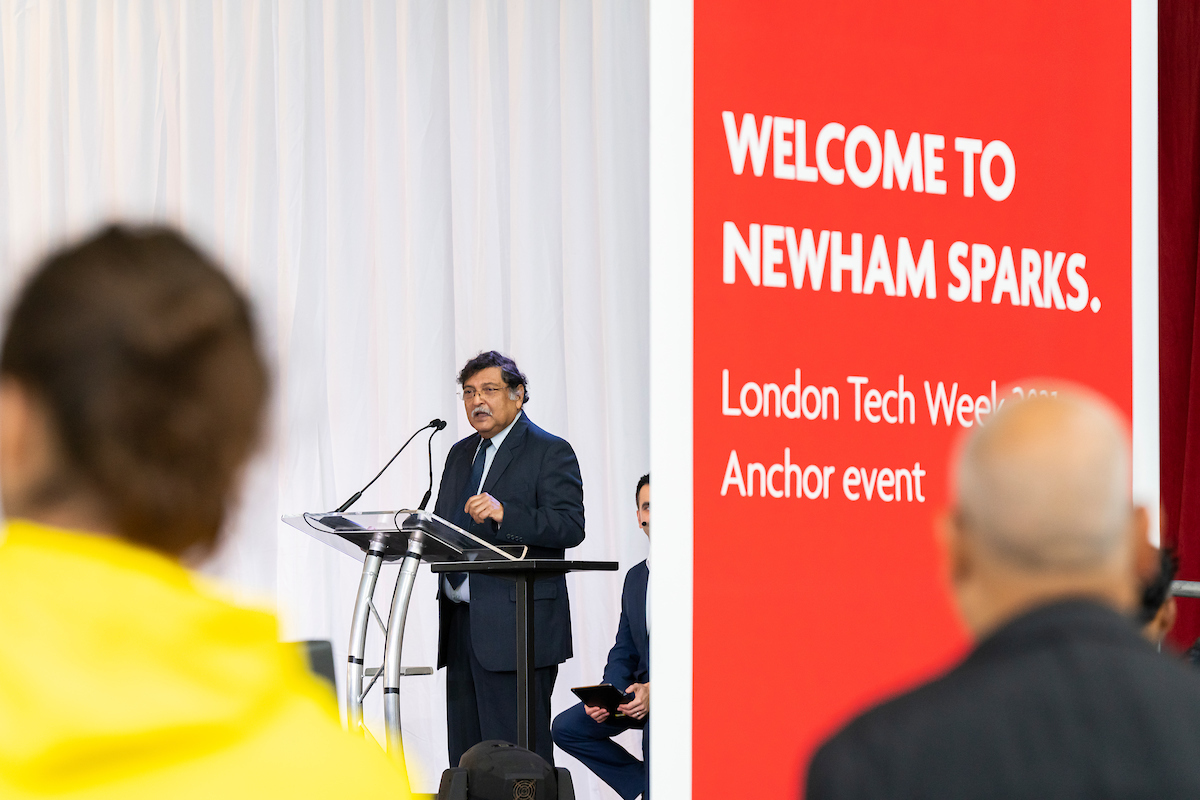 As we build the next generation of technology, getting people from all social groups involved is vital – an algorithm cannot be unbiased if the people who build it are, was the message from Black Girls Code. We have a lot of work to do to mend digital inequality: even now, 5.3 million UK adults have not been online in the past three months or more. Some of this means teaching digital skills across the borough and enabling better access to data services so that people can use the services available. But it's also about rolling out reliable and fast broadband for homes as well as businesses, as we're doing right now in the Royal Docks. We will have information about our areas of investment once we present the Royal Docks Digital Strategy next year.
As data becomes an even more valuable commodity for business and commerce, it is vital that the prosperity it fuels is shared with the city and its citizens.
- Professor Dame Henrietta Moore, Director of the Institute for Global Prosperity at University College London.
A world built on data – sustainably
It's never too late to learn, was the message from the Newham Sparks launch – but we also know that one of the best ways to propel change is to invest in young people, whether that is ensuring they have access to the right technology in school, digging holes to run cable to get that technology working, or building quality housing with smart technology that makes life better.
Data is all around us, and Newham and the Royal Docks is at the frontline of working to shape how this will look in the future. "As data becomes an even more valuable commodity for business and commerce, it is vital that the prosperity it fuels is shared with the city and its citizens," said Professor Dame Henrietta Moore, Director of the Institute for Global Prosperity at University College London. "We have formed a partnership with Newham Council to explore the future of data in the borough and the capital and ensure it brings prosperity and jobs to places that have struggled economically in the past."
Read more about Newham Sparks here.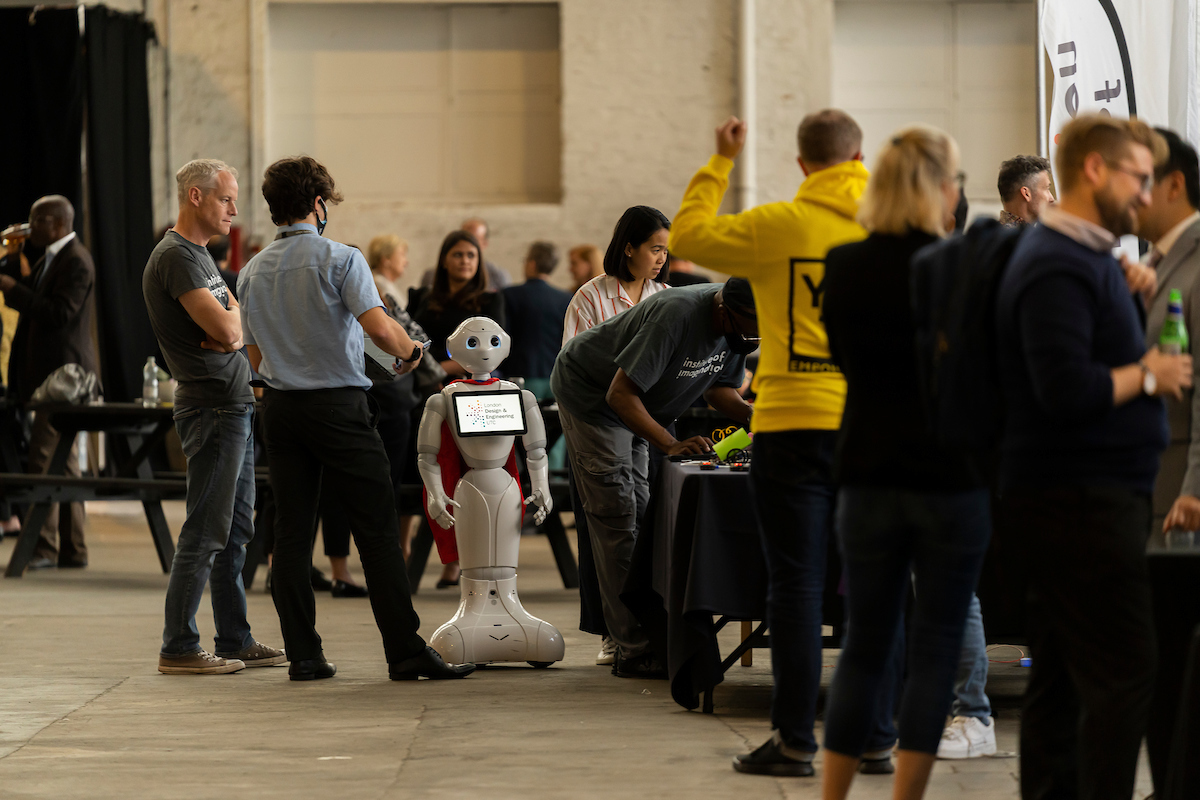 Stories from around the docks