Art & Culture
Royal Docks Summer Programme – Call for Proposals
The Royal Docks Culture & Activation Team (RDCAT) are looking for accessible, fun and creative activities and workshops for Kids' Summer Splash as part of our Summer Activation Programme. We are looking to work with local creative/cultural organisations and artists to make a varied programme that appeals to diverse local communities in the Royal Docks.
Proposals can be from a cross-section of artforms and cultural activity/ projects, including sports.
The organisations funded will be responsible for managing and delivering their activity to an agreed set of creative, target audience/participant and production criteria. RDCAT will promote it as part of our Summer Season.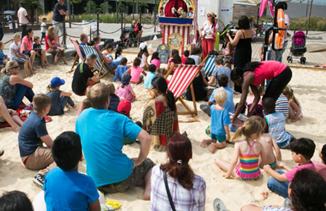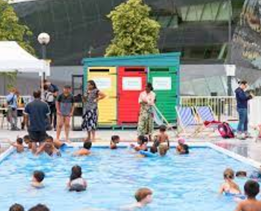 Activity must:
Take place within the Kids' Summer Splash footprint (See image below) Primarily in the Event Lawn area where picnic tables are detailed (these can be moved). The space will be approximately 10 meters by 10meters.
Be delivered by or with Royal Docks or Newham-based creative organisations and artists
Be free or low cost to audiences/participants
Be Accessible
Be produced and managed by the partner organisation (supported by Bliss Events and in conversation with and reviewed by RDCAT where necessary)
About Kids' Summer Splash:
Since 2012, Kids' Summer Splash has offered a free, family-friendly day out for local people and visitors wanting to experience an urban waterfront in the heart of the city. Running from Monday 1st to Sunday 21st August, KSS 2022 will provide a safe space for people to relax on deckchairs and hang out in the urban water landscape of the Royal Victoria Dock. KSS 2022 is operated by Bliss Events.
Support from the Royal Docks Team and Bliss Events
The Royal Docks Team will provide support in the promotion as part of our Summer Season – through newsletters, social media and our website. Activity to be branded as 'supported by the Royal Docks Team'.
Bliss Events will be providing certain infrastructure for the event site this will include:
Event Lawn with, Sand Pits, Public Lido and Pool deck area
Toilets – including accessible/parent and child facilities
Changing Facilities (see picture below)
Security, First aid, Lifeguard, Cleaning and Site Management staffing
Small storage area
Limited power (available on pre request and subject to location)
Deckchairs, picnic benches and umbrellas
Food and drinks available to purchase from the onsite Snack Shack (see picture below).
Support to produce a risk assessment for your activity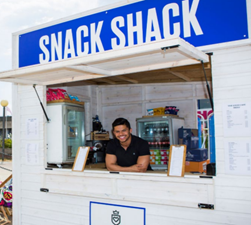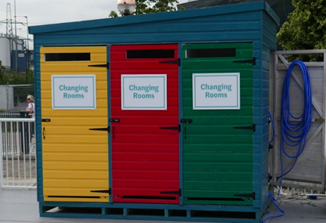 Audiences
Activities programmed should be accessible, fun and appeal to a wide range of local audiences in terms of:
A wide range of backgrounds
Different age groups - young people, older people, intergenerational
Family audiences
Culturally diverse communities around the Royal Docks
Heritage focussed audiences
Arts & culture focussed audiences
Dates
Activity should take place within dates of KSS 2022, Monday 1st to Sunday 21st August
Budget
We are looking for activity with budgets of up to £1000.
Your Proposal
To submit your proposal, please complete this form by midnight on Monday 23rd May.
If you would like to discuss your proposal before submitting, please email RoyalDocksEvents@london.gov.uk
Background
The Royal Docks as the cultural engine of London: it's a bold goal, but one that is achievable because it is rooted in local talent, ambition, and community.
Our Cultural Placemaking Strategy shows how we're planning to get there. Inspired by the people and heritage of the Royal Docks, our strategy highlights the unique opportunity that we have to create a cultural destination unmatched anywhere else in London today.
The 'Programme' pillar of the strategy details events and activities will be commissioned and curated to attract, excite, and inspire all who engage with the Royal Docks.
The Royal Docks Team is a multi-disciplinary team that brings together officers from across the Greater London Authority, the London Borough of Newham and the London Economic Action Partnership. Home to London's only Enterprise Zone, the Royal Docks is one of the most significant regeneration projects in the UK. The team was established in 2017 to help deliver the cohesive transformation of the Royal Docks into a vibrant, mixed-use destination with culture and community at its heart.
Location and Access
Address: Royal Victoria Dock London, E16 1GB
There is very limited parking near the site, vehicle access for drop offs can be arranged. We recommend travel by public transport where possible. The site is 5mins walk from Emirates Air Line Royal Docks, 6mins walk from Royal Victoria DLR stop, 10mins walk from West Silvertown DLR
Stories from around the docks