Events
Three ways to explore the Royal Docks on Car Free Day
In the build up to the Mayor of London's Car Free Day this September, the Royal Docks Team has curated a unique storytelling trail complete with an illustrated map in collaboration with immersive yarn spinners, Patchlarks and local graphic designers Lunes. Families, groups and curious ramblers can embark on either the walking or biking trail to explore tales of mythical sleeping giants and the Royal Docks.
Commissioned by the Royal Docks Team, the map features a walking trail, a biking trail and on Saturday 19 September, 10am - 4pm, on the 'Sleeping Giant' walking route, a series of surprise characters will animate the trail from Royal Victoria Dock to Thames Barrier Park. The map encourages families and groups to explore the industrial history and contemporary stories of the area. It's designed to open up a world of opportunity and show people how to reclaim their streets and rediscover this iconic area by foot or bike.
Much of the Royal Docks' 12 miles of waterfront is already traffic-free, and the perfect spot for a sunset cycle or a brisque morning walk; it's quiet and wide. The space allows for safe movement at a social distance so you can enjoy a stroll, jog or cycle all year round.
Here are three ways you can explore the Royal Docks before, during and after Car Free Day:
Choose your own adventure
From today you will be able to download these illustrated maps and start your - car free - quest early! Indulge your inner historian with two bespoke story trails 'Seeking the Sleeping Giant' by foot and 'Ride to the Heart of the Docks' by bike.

Find a surprise storyteller en route
On Saturday 19 September we're inviting storytellers from Patchlarks to bring your adventure to life. Indulge your imagination as these raconteurs tell all about local legends, historical facts and tales inspired by the Royal Docks across three locations: Thames Barrier Park, Crystal Gardens at Royal Victoria Dock and by the cranes on the south side of Royal Victoria Dock near Britannia Village.
Explore the Royal Docks on a Brompton
On the flip side of the map you'll find a guide for your very own bike tour along the Docks. Why not try it out on a Brompton? You can rent one of these nippy folding bikes from £3.50 or treat yourself to a subscription as part of the Brompton Bike Hire scheme. These lightweight bikes are super easy-to-use and there's a no fuss reservation system that works online or by SMS. While you can rent them from Victoria Dock (adjacent to the Crystal building) you can return them at any available Brompton docking station around the city. The best thing is that they are super compact and travel well on public transport, so if your legs get tired you can jump on public transport - including the DLR which loops around the Docks and offers exciting viewpoints of London's most dynamic district.
---
Download our Car Free Day illustrated maps:
Seeking the Sleeping Giant [Download Map PDF 5mb]
Ride to the heart of the docks [Download Map PDF 5mb]

Pick up a map from the following locations:
Royal Docks Leaning + Activity Centre
Britannia Village Hall
West Silvertown Foundation
Expressway
ASTA community centre
Custom House Library
Newham Dockside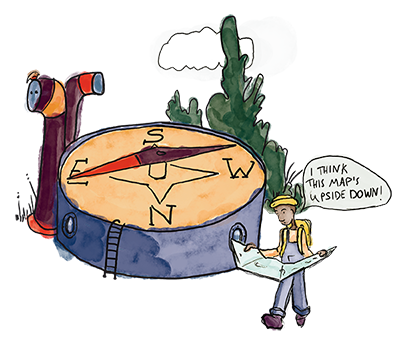 More about Car Free Day
After the success of last year's Car Free Day in London, the Mayor of London continues with his long-term plans to make the Captial one of the greenest cities by 2050 by investing £22 million to help improve air quality across the 32 boroughs.
In Newham we've already seen investment to help lower emissions and as part of the Air Quality Action Plan, Newham is committed to becoming carbon neutral by 2030 and carbon net zero by 2050. This includes the Royal Docks, where we're working hard with our partners and local communities to ensure our growth is sustainable. Establishing Thames Barrier Park as a green destination and making sure alternative forms of transport like folding rental Brompton bikes are easy to access, are a few examples of early projects that we are taking forward.
Stories from around the docks