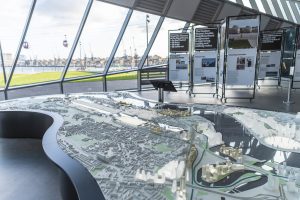 Events
Changing Places – Working with the Community
Join us at The Crystal to explore and discuss community participation in urban planning and regeneration. The London Borough of Newham's Community Wealth Building agenda and the Royal Docks aspiration to be a place that benefits communities provides a unique opportunity to explore exciting new ways to engage the community.
A range of speakers with different expertise will showcase current, emerging and innovative practices that enable communities to co-design and co-produce places. This breakfast talk aims to create a forum for debate amongst different stakeholders: developers, planners, architects, authorities and communities about the efficacy of current models and what is needed to enable the emergence of transformative practices where communities have a genuine say in the shaping of their neighbourhoods
For your visit
Food & Drink
Nakhon Thai
Thai restaurant overlooking the docks, with a Polynesian-style cocktail bar.
Food & Drink
Nani Café
Beans on toast, paninis, and other homely lunch options at equally homely prices.
Places To Stay
Connaught House Hotel
This Grade II-listed building provides comfortable rooms and classic pub dining.