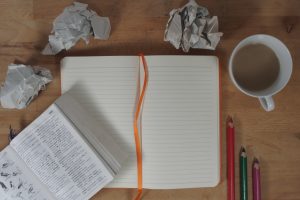 Dido's Bar - Creative Writing Workshop for Beginners with Hattie Naylor
Are there stories you've always wanted to write, but you're not sure how to begin? Do you want to find a creative outlet that allows you to express your experiences through language?
Learn how to start writing and explore themes of travel and home alongside other local residents in this fun and practical community workshop, led by writer Hattie Naylor. Follow wherever your imagination takes you and emerge from the workshop with a written piece of your very own, whether that's a story, a poem or something completely different.
Hattie Naylor is an award-winning dramatist and writer. She has run workshops all over the world and is a lecturer in stage and screen at Sheffield Hallam University.
All Newham residents are welcome, including those with English as a second language. Places are limited.

This workshop is part of Dash Arts' project Dido's Bar, exploring migration, identity and Europe, culminating in a music theatre production at Royal Docks in autumn 2022. As part of Royal Docks Originals here is also another workshop where attendees can learn and share songs from the Middle East and North Africa.


Suitable for ages 16+

For your visit
Business
Tate & Lyle Sugars
This refinery on the banks of the Thames has been producing sugar by the tonne for over 140 years.
Community
Asta Community Hub
Asta takes a holistic approach, supporting the North Woolwich and Silvertown community from birth to old age.
Art & Culture
The Line
Sculpture trail leading from the O2 to the Queen Elizabeth Olympic Park via Royal Victoria Dock.