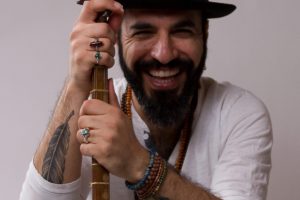 Dido's Bar - World Music Workshop with Marouf Majidi
Do you play music? Want to meet other local musicians and learn new music together?
Learn and share songs from the Middle East and North Africa with other local musicians in this fun and practical world music workshop led by composer and musician Marouf Majidi. Bring your instrument and get ready to jam.
All Newham residents with some musical skills are welcome. Places are limited. After the workshop, you'll have a chance to perform the songs you learnt together at an informal sharing with an audience.
The workshop is part of Dash Arts' project Dido's Bar, exploring migration, identity and Europe, culminating in a music theatre production at Royal Docks in autumn 2022. Taking part in this workshop, might also give you the opportunity to be further involved in the project, as part of an ensemble that will perform as one of the interval bands. Another workshop from Dash Arts for Royal Docks Originals is led by writer Hattie Naylor where attendees can learn how to start writing and explore themes of travel and home.

Suitable for ages 16+


For your visit
Food & Drink
The Living Room
The Good Hotel's floating restaurant dishes up locally-sourced comfort food with a Spanish twist.
Art & Culture
Making Space: Custom House Is Our House
Installation art comprising a life-sized group portrait of individuals who live and work on Freemasons Road. Part of the Making Space series by Jessie Brennan.
Food & Drink
Il Volo
Il Volo serves Italian comfort food that salutes the docks' history at the centre of world trade.