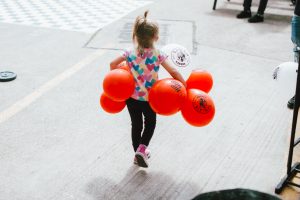 Family Weekender
Get ready for free half term family fun at Royal Docks Originals Family Weekender.
This weekend of wonder in and around Bow Arts Studios includes games, live music, dance, story-telling, art, and more.
Try your hand at something new with workshops (running 11am-4pm) such as Fabric Painting with Yuliya Krylova; discover mechanised toys and other moving items with Fire The Inventor's Ensemble Automata; Italian-born sculptor, painter and designer Vincenzo Muratore will lead Community Connections Handcasting, and Hafza Yusuf will give an Introduction to Heat Press Printing.
Live on stage from noon there will be storytelling adventures with Patchlarks, a chance to have a sing-a-long with Newham Music, and a mega dance-off when Fun DMC bring their Block Party. And don't miss circus and comedy from double act the Bazazi Brothers.
There will also be a visit from YARA + DAVINA's Pet Balloon Service, who want to hear your stories of how pets got their names in return for a balloon animal.
Look out for Ideal Palace from Emergency Exit Arts - part audio-theatre journey, part immersive art experience, part interactive trail; Nathalie Coste's Balloons in the Dock installation on the dock water; the Institute of Imagination's inspiring interactive light boxes; and floor decal playground Wriggle and Scribble by Anna Bruder.
And while you're here, Drop in on the Art in the Docks Gallery, where the exhibition is Colin Gold's IS THIS THE END – or JUST THE BEGINNING… Grab a bite to eat at The Chocolate Factory for scrumptious plant-based food and views, or the Café Spice Namaste pop up - for Indian favourites with a French twist, dreamt up by Mumbai-born chef Cyrus Todiwala.
On Saturday, stay after sunset and enjoy a special evening with Folk Dance Remixed. Suitable for all ages, it's a lovely opportunity to have a dance.
You can download the programme here [PDF 1.5mb] or view the full programme below!
Full Programme:
Saturday
12–1pm: Newham Music performance and workshop
1–1.45pm: Patchlarks performance and storytelling
2–5pm: Fun DMC – a real block party experience for parents and children with areas to dance and practice your graffiti skills
5.30–7.30pm: Folk Dance Remixed – a fresh, quirky, colourful collision of traditional and Hip Hop dance and music
Sunday
12–12.45pm: Welcome by the Bazazi Brothers – a riotous double act with dancing, juggling and falling for your viewing pleasure!
12:30–2:30pm: Patchlarks performance and storytelling (walkabouts)
2-2.45pm: Juggling Workshop with Nearly There Yet
3.15-4.15pm: Brass Volcanoes
4.30–5pm: The Bazazi Brothers – ridiculous dancing and dad humour
Time & date
30 Oct: 11am-7.30pm
31 Oct: 11am-5pm
Location
Bow Arts, Royal Albert Wharf, E16 2GU.
Nearest DLR Station: Gallions Reach

Join our mailing list and follow us on Twitter, Facebook and Instagram for event announcements.
For your visit
New Arrival
Food & Drink
Husk Brewing
There's a new brewer in town, right where the first IPAs were once shipped from. Watch out for live music nights in the bar.
Community
Asta Community Hub
Asta takes a holistic approach, supporting the North Woolwich and Silvertown community from birth to old age.
Activities
IFS Cloud Cable Car
This cable car flying between the Royal Docks and North Greenwich offers panoramic views of the river.