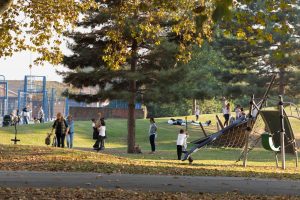 Events
Have you registered your events for Love Parks Week?
Almost 50 Local Authorities have now registered to take part in Keep Britain Tidy's #LoveParks Week campaign 2019. If you haven't registered yet don't worry, it's not too late!

Register now for access to Free resources to promote your #LoveParks #LoveParksweek events between the 12 - 21st July.
#LoveParks week is a fantastic way to engage your local park lovers and residents, and also a great excuse to celebrate your new Green Flag win!
This year the campaign includes a social media competition to WIN one of 5 £100 Wilko vouchers, and outdoor advertising running across the Clear Channel network, so make sure your events are plotted on our map so local residents can take part and find out what's happening in your area.
Register now to find out more.
For your visit
Art & Culture
Millennium Mills
Derelict early 20th century flour mill turned screen icon; this Royal Docks landmark is due to be redeveloped.
Food & Drink
The Girl of Sandwich
Primarily a takeaway, this sandwich shop is popular with locals and workers alike.
New Arrival
Food & Drink
The Royal Standard
The Royal Standard has re-opened under new management as a family-run pub that welcomes everybody, including children until 6pm.