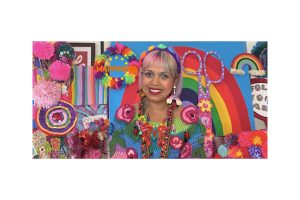 Art & Culture
Mindful Crafts for Adults
Unleash your inner artist - join our new mindful crafts workshop! Discover the therapeutic power of creativity and embark on a transformative journey of relaxation as you put down your phone and take a break from your to-do list to make way for some creative 'me time' that will nourish your mind, body, and soul.
Engaging in creative activities has been proven to reduce stress levels and is super fun. These sessions offer a serene environment that allow you to tune out distractions and find solace in the present moment. Feel any worries melt away as you immerse yourself in the joy of crafts.
Creating something beautiful with your own hands is immensely gratifying and you'll experience a sense of achievement and fulfilment as you witness your vision come to life – you can also take home your masterpiece as a reminder of your creative abilities.
Led by Colour Therapist and Museum of Happiness Facilitator Momtaz Begum-Hossain, you'll be guided through different techniques to inspire your creativity. Projects vary each session and could include anything from painting and collage to mindful sewing and embroidery.
All materials will be provided, and no prior artistic experience is necessary.
You are invited to accept this workshop and crafts as a gift and you also have the option to 'pay-it-forward' (contribute a donation of whatever you feel for those who will come after you). These sessions are for adults and those aged 16+.
For your visit
Food & Drink
ZeroSette
Authentic Italian near the ExCeL, with a touch of flair.
New Arrival
Business
Duffy London
Duffy London is a Design Studio from Christopher Duffy producing ideas-based pieces of modern furniture and sculpture. The studio combines art with function to design and manufacture a range of limited edition collections that play on the concepts of gravity, geography, and illusion.
Activities
Royal Docks Adventure
Power boats, rowing boats, dragon boats, canoes – everything you need for an afternoon on the water.