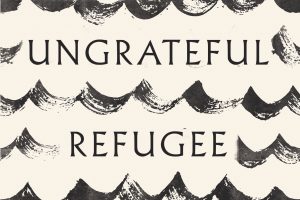 Refugee Week: Q&A with Dina Nayeri
The author speaks about her new book, The Ungrateful Refugee, as part of the UEL Archives' Boundaries of Diversity series.
As part of Refugee Week 2019 we are pleased to be able to host Dina Nayeri to talk about her new book The Ungrateful Refugee. This is Dina's first book of non-fiction where Dina explores both her own story of leaving Iran and becoming a refugee as an eight-year-old child before being granted asylum in the United States. Dina's previous works including Refuge and A Teaspoon of Earth and Sea have both achieved awards and her new book explores real stories from her own experience and from those of other asylum seekers about what it means to be made to leave your home and cross borders hoping for a new start.
"The Ungrateful Refugee offers a new, complete narrative of resettlement, and recalibrates the conversation around the refugee experience. But above all here are the real human stories of what it is like to be forced to flee your home, to journey in hope of a better, safer life, and, for the lucky few, the struggle to start afresh in a new culture."
This event will be chaired by Professor Giorgia Dona, Co-Director of the Centre for Migration, Refugees and Belonging here at UEL and has been co-organised by Paul Dudman and the Refugee Council Archive. UEL has been a centre for engagement on refugee and migration issues for over twenty years with successful postgraduate programmes in Refugee Studies and Conflict, Migration and Human Security. We also hold one of the largest archival collections on refugee and migration issues.
Tickets are free but spaces are limited and booking is essential to guarantee your place.
This is part of a series of events, do check out the others in the programme:
Silvertown Explosion Exhibitions and Tate Lives
Refugee Week Exhibition
Q&A with Dina Nayeri
Oral History Roundtable
Poetry Workshop with Sonia Quintero
Heritage Open Day at the UEL Archives
All of our events will be FREE and open to the local community.
Boundaries of Diversity: Migration, Regeneration and Community Heritage in the Royal Docks.
Organised by the the Archives service at the University of East London, "Boundaries of Diversity" will be a month long exhibition and series of events in June including workshops, talks and family events exploring issues of migration, regeneration and the community both within the Royal Docks and more broadly in East London. In collaboration with colleagues at the University and external partners including the Oral History Society, this series of events and exhibitions born out of our work with traditional archival and oral history sources exploring the issues of boundaries and diversity within the local context. A month long exhibition will be staged at the UEL Archives in Docklands and Stratford showcasing work from our Tate Lives projects in North Woolwich and Silvertown and the notions of what is meant by the "boundaries" within aboth the built environment and personal contexts. We will also explore the role and impacts of migration with a local context.
For your visit
Community
University of East London
UEL's docklands campus is known for its state-of-the-art sports facilities and formiddable reputation.
Food & Drink
Galyons Bar & Kitchen
This 19th-century dockside inn has recently been reborn as a waterside gastropub.
Activities
NASSA Sport
Community basketball club for 8 to 18 year-olds from Newham, in partnership with UEL.