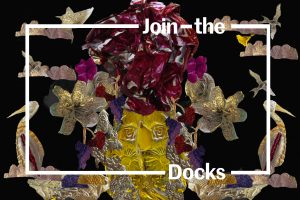 Rivers of the World Exhibition in partnership with Totally Thames
Rivers of the World international art and education project delivered in partnership with the British Council that connects pupils around the globe to their local river through environmental, economic and cultural learning and themes.
Encouraging young people to explore and reflect on local and global issues and perspectives to build the skills they need for life and work in a global society.
Pupils learn and gather ideas that are channelled creatively into drawings, paintings, photographs and other visual media which result in the creation of a collective large-scale work of art.
For your visit
New Arrival
Community
Royal Wharf Community Dock
From adult ballet classes to dance and drama classes for kids, this new centre in the heart of Royal Wharf has begun with a bang.
New Arrival
Art & Culture
Making Space: Take Your Place
This final part of Jessie Brennan's public art series was created in collaboration with the sports communities at Royal Docks Adventure.
Activities
NASSA Sport
Community basketball club for 8 to 18 year-olds from Newham, in partnership with UEL.