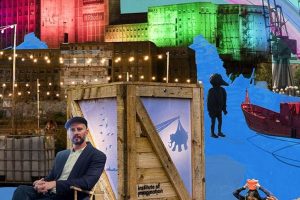 Art & Culture
Royal Docks Creative Network Launch
The Royal Docks Team is delighted to invite you to the launch of the Royal Docks Creative Network, a new network to meet other creative professionals or organisations based here, explore opportunities for exchange and collaboration, share ideas, and to help shape Royal Docks' creative future.
The evening will include food and drink, music and a chance to hear from members of the Network's pilot phase about the opportunities and collaborations that have come since joining.
In 2021 we launched the Royal Docks Cultural Placemaking Strategy with a big vision to become London's Cultural Engine – a workshop of the world: home to artists and practitioners, cultural organisations and creative professionals, a place where innovative ideas are germinated, and new cultural work is made. Through this new network, we want to invite you to help us, to help you, to create that vision.
Meeting quarterly, with regular socials, the Royal Docks Creative Network will bring together local creative professionals to work with each other and with the Royal Docks Team to make the Royal Docks into one of the world's greatest creation centres. Our aim is that this network will help support our cultural ecosystem and enrich our creative life here.
This launch follows a pilot phase with a limited number of participants that shaped the network to ensure it is relevant and useful. This 'pilot group' was selected to represent a mix of the Royal Docks creatives including those with a range of practice, cultural identities, from different neighbourhoods, and sizes of organisation.