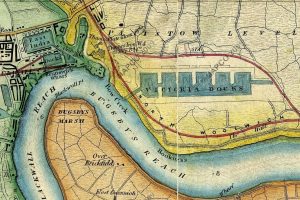 Royal Docks History Club: A History of Maps & Boundaries
Meeting monthly at RDLAC, this club celebrates local history through talks and discussion, followed by dinner for a donation.
This month, Layers of London will give a presentation on historical maps and boundaries of the local area and will facilitate an audience discussion on how boundaries shape and influence / impact daily lives.
Layers of London is a map-based history website. Users can access free historic maps of London and contribute stories, memories and histories to create a social history resource about their area. In this session Tom Furber will also give an introduction to the website and the histories contained within.
For your visit
New Arrival
Food & Drink
The Royal Standard
The Royal Standard has re-opened under new management as a family-run pub that welcomes everybody, including children until 6pm.
Outdoors
Royal Victoria Gardens
These 19th-century pleasure gardens are still a delightful place to watch the river go by.
Food & Drink
Pier Masala
Cosy North Woolwich curry house serving traditional Indian dishes at reasonable prices.