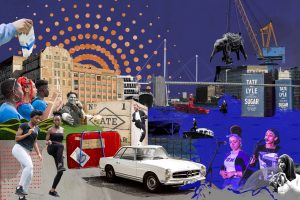 Royal Docks Originals
Royal Docks Original Voices: We Have Arrived – Arrival X Royal Docks
Join host Momtaz Begum-Hossain for a lively discussion exploring stories of the Royal Docks with Asif Shakoor and Marieta Evans, and discover how some of these hidden histories have inspired Arrival, one of this year's commissions for Royal Docks Originals festival, from Associate Artist Sophie Ellerby and participant & local resident Jon Hague. This conversation will consider the role of the docks in trade and industry, the products that have arrived here, and the people. We will hear more about what the artists found out about how local people feel about the history, the place now, and what they want to see arriving next.
If you are an artist, love the history of the area, or are interested in learning more about the creative process, join us to hear how these artists have approached making work to reflect the rich history, the current landscape and how they have involved local communities.
Hosted by Momtaz Begum-Hossain:
Momtaz Begum-Hossain is a Colour Expert, award-winning Journalist and Royal Docks resident. She's worked as a professional Writer and TV Presenter for over a decade for outlets like The Guardian, Asiana, HuffPost, gal-dem and the BBC. Her travels around the world have seen her interviewing some truly inspiring minds, while back in London she's hosted live events at venues such as BFI Southbank and Wilton's Music Hall. Her third book Hello Rainbow: Finding Happiness in Colour is published in December 2021.
Panelist: Sophie Ellerby
Sophie Ellerby is a playwright and actor. She was awarded a place on HighTide's First Commission scheme in 2016 where she wrote her debut play Lit. Other work includes: Three (Arcola Theatre, London, 2017) and Function (Criterion Theatre, 2018). She is Associate Artist in the Arrival Creative Team.
Panelist: Marieta Evans
Marieta is a freelance journalist, content-producer & broadcaster, passionate about history. As a news and sports reporter and presenter, Marieta has worked for a wide variety of media outlets globally and locally, from reporting for CNN+ in Spain to writing features for the Newham Recorder and volunteering with East London Radio. Among other projects Marieta is currently a TV presenter for Eurosport internationally covering electric car racing events aimed to help accelerate the transition towards a more sustainable future. She has also been involved in a wide variety of heritage projects in Newham including the Royal Docks History Club, Newham Heritage Month also hosting interviews, videos, social media content and events for the Thames Festival and London Borough of Newham.
Panelist: Asif Shakoor
Asif Shakoor is an independent scholar. He grew up in Manor Park and studied at the University of East London. His grandfather, Mahomed Gama, enlisted in the Mercantile Marine during the Great War and arrived at the Royal Victoria Dock in 1917. Asif wrote about his search for his grandfather's missing war medal in Britain at War (January 2018). He is the author of an audio drama script commissioned by Arch 468 Theatre: 'The Mystery of the Missing Medals' (December 2020), about his search for his grandfather's war medals. He was invited by the BBC to represent his grandfather at the Royal British Legion's Festival of Rememberance, Royal Albert Hall (November 2018). Asif is the author of a forthcoming book: 'Unearthing Invisible Seafaring Histories of Empire'. He is an author at Port Towns & Urban Cultures (PTUC) website, University of Portsmouth. He contributed research to the Maritime Archaeology Trust's booklet on BAME seafarers in WW1. He has presented research at national conferences and local events. He has worked on a project to digitise Cooks Certificates for Indian seamen at the National Maritime Museum. Asif is Founder of the South Asian Contribution to Great Britain project.
Sophie Ellerby
East Midlands writer, theatre maker, and performer - Sophie Ellerby began her career as an actor, joining the Nottingham Television Workshop at thirteen and starring in Shane Meadows' film This Is England. She went onto study Drama at the University of Manchester, specialising in Theatre in Prison. In 2016 she was awarded a place on HighTide's First Commission scheme where she wrote her debut play LIT, co-produced in 2019 by HighTide and the Nottingham Playhouse, with a sell-out run and rave reviews. Former Writer in Residence at Pentabus theatre, she is currently under commission by WildWorks and working on her BFI funded debut short film, The Walk. Sophie has just finished working as an Associate Artist on ARRIVAL co-directed by Matthew Dunster and Jon Bousor. She is drawn to work that tackles provocative societal questions in an accessible and human way - always with community at its heart.
Jon Hague
Jon moved to the Royal Docks in 2013, seeking a home and a community, as he prepared for the end of his army career. Originally trained as an actor, and stage director at the University of Birmingham's School of Performance Arts, Jon subsequently worked as a stage manager in London and in the music business, working for Elton John and the Three Tenors. Personal circumstances prompted a profound change in trajectory, when he retrained as a nurse and joined the Army in 1997, serving multiple deployments, including in Northern Ireland, Iraq and Afghanistan. In 2018, BAFTA awarded him their prestigious scholarship to study screenwriting. He continues in BAFTA's new talent programme, was recently shortlisted for the BFI's Early Development Fund and is pitching several projects across the industry.
For your visit
Art & Culture
Making Space: The People's Plan
Large-scale artwork reproducing 'The People's Plan for the Royal Docks,' a 1980s community-led project to oppose the airport.
Outdoors
Royal Victoria Gardens
These 19th-century pleasure gardens are still a delightful place to watch the river go by.
Food & Drink
Airline Cafe
No one complains about all-day breakfast for under a fiver. Right next to the ExCeL, this cafe-diner opens early to late.
Similar events