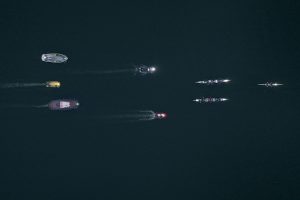 At the Docks
Sea Change
Commissioned and produced by the Royal Docks Team in collaboration with University College London (UCL) – one of the world's leading universities – and curated by Invisible Dust, Sea Change brings global artists together with leading UCL academics, inspired by research into sustainable responses to the current climate emergency.
New artworks have been commissioned from four international artists:

The full Sea Change programme includes Forecast 2023, an international hybrid symposium at City Hall on 19 May featuring writers, artists, scientists and cultural commentators to explore the nature of the stories we tell and how they help shape our planet's future.

Part of At the Docks 2023 – a brand-new summer season of arts, culture, and events at the Royal Docks

In Thames Barrier Park, Sea Change also includes an exciting pop-up residency from The Greenhouse Theatre, the UK's first zero-waste theatre venue. The line-up features workshops, audio guides and talks, plus activity packs for family fun. The event is complete with an alfresco bar and picnic area to soak up the views and spring sunshine!
Download and print the Sea Change leaflet [PDF 1.3mb] filled with further information and a guided map for your visit! You can also download the Sea Change Activity Pack [PDF 5.0mb] here too!
For your visit
Places To Stay
Moxy London ExCeL
Marriott's boutique brand, Moxy, offers a laid-back alternative with cheerful colours and cheaper rates.
Food & Drink
Cafe Bonane
Down-to-earth cafe serving fried breakfasts and hearty lunches on the dockside.
Activities
SportsDock
State-of-the-art UEL sport facilities, offering martial arts, table tennis, badminton, and more.