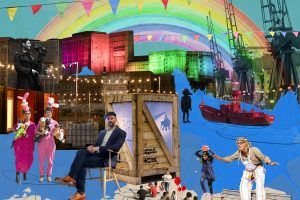 Past Events
Royal Docks Originals Festival
Throughout October, the carnival of creativity will showcase some of the incredible new cultural activities being developed in this vibrant part of east London. Look out for exciting new world premieres, free family activities, exceptional diverse artworks, unforgettable theatre, enlightening workshops, and music from some of the most exciting artists on the circuit.
Find out all you need to know on our What's On pages, but to make sure you don't miss anything, sign up to our newsletter and follow us on Facebook, Twitter and Instagram. For over 100 years, the Royal Docks was London's gateway to the world. The Royal Docks Team has curated a programme of events that celebrate this rich heritage and look to its exciting future as the cultural engine of London.
Two new works commissioned by the Royal Docks Team headline the festival, reflecting the pivotal role played by this historic 4km stretch of Newham and its creative potential. Royal Docks Rainbows is a sensory extravaganza that will delight everyone, and ARRIVAL is a brand new immersive family theatre adventure based on tales of people arriving at this buzzing corner of the world.
Royal Docks Originals also features brand new works by local and national artists, activities that will inspire you, and spontaneous moments of joy that will give your day a sparkle.
Download the Royal Docks Originals Brochure [PDF 7mb]
So, what's on?
Get tickets now, before they're gone. Live events, trails, talks, music and online activities include:

Royal Docks Rainbows
14-31 Oct

Multisensory wizards Bompas and Parr are creating the world's first rainbow you can interact with, with flavours inspired by the Royal Docks' past. And as if that wasn't enough colour for you, they'll be making a huge rainbow shine over Royal Victoria Dock twice a day (when the sun's out).
ARRIVAL
21-23 Oct

A brand new immersive family theatrical adventure through the streets and green spaces of the Royal Docks, inspired by the past, present and future of this historic part of London. Created by imPOSSIBLE and renowned designer and director duo, Jon Bausor and Matthew Dunster, this unmissable world-premiere includes live performance, music, beatboxing, dance, water-wonder and filmic spectacle.


Silvertown – a new play
28-29 Oct

Set in the 1960s, Jonny Wooster's poignant and funny play is inspired by a now-lost gay pub in North Woolwich. With characters created after discussions with residents who remember the area at the time and senior gay men, it brings to life an important part of history.


Family Weekender
30-31 Oct

Bringing together music, performance, art, dance and more for a free weekend of culture and creativity, this exciting half-term treat features fun in unexpected places. On Saturday evening the music stage comes to life, giving everyone a chance to have a dance.

Find out more

The Factory Project
9-22 Oct

See works by more than 80 diverse artists as The Factory, next to Tate & Lyle is transformed into a gallery for this "festival of curation", which brings together sculpture, paintings, drawings, videos and installations.

More info soon


Stop Press News
16, 23, 30 Oct & 6 Nov

Four fascinating 'walking workshops' will investigate the dozens of newspapers that have served the Royal Docks over the last 150 years. Each walk brings together material from Newham's incredible archives with a local Docklands neighbourhood to find out how newspapers represent the different kinds of 'place' we find in and around the docks.


Jonny's 1960's Sing-along And Tea Dance
30 Oct

Party like it's 1967 and join Jonny Wooster and guests around the piano for a sing-along to hits from the 60s. Inspired by his new play, Silvertown, it's just the way to get into the spirit of the times.

Find out more

YARA + DAVINA's Pet Balloon Service
16,23 & 30 Oct

How did your pet get its name? In this joyful public artwork popping up around the Royal Docks, duo YARA + DAVINA will give away balloon animals in exchange for people's stories of how their pets were named.

Exposure
27-30 Oct

Hear the stories, hopes and frustrations of 47 Newham health workers filmed by artist 'the vacuum cleaner' during autumn last year in this evening of film, memories and resilience.


RIB Rides
23 & 30 Oct

See the Royal Docks and its iconic architecture as you've never seen them before – from the water. Join Atlantic Pacific International Rescue for trips around the docks on one of its search and rescue boats.


Dido's Bar: World Music and Stories
23 Oct

Unlock your creativity and discover music from the Middle East and North Africa at these free community events from Dash Arts as part of their project Dido's Bar, including creative writing and world music workshops, plus a performance of songs.


Live at the Silver Building
15, 22, 29 Oct

Join incredible musicians such as Rosie Frater-Taylor, Justin Adams & Mohammed Errebbaa, and Alice Zawadzki for a series of free concerts in this striking space.


From the Decks to the Stars 16, 23, 30 Oct

Max Reinhardt from Soho Radio and BBC Radio 3's Late Junction invites live musicians such as Camilla George, Rosie Turton and Arun Ghosh to join him in the docks at the Good Hotel bar.

Grown Up In The Docks
14-31 Oct

This evocative outdoor exhibition shares stories and photos of youth told by people who grew up in the Royal Docks, from Saturdays spent in the engine room on the Woolwich Ferry to first jobs at the Tate & Lyle factory.

Switch the Docks
Throughout Oct

Keep your eyes peeled for shipping crates dotted around the Royal Docks. They are in fact light boxes that, when triggered, reveal stories gathered from residents through this innovative project by the Institute of Imagination.
Royal Docks Voices
Throughout Oct

This series of fascinating free talks is inspired by the people, programme and places of Royal Docks Originals and explores some of the absorbing ideas brought to life through the festival.
Online and On Demand
Dock Lands People
Throughout Oct

A captivating photographic essay by Michele Turriani that explores diverse characters, architectural structures and heritage of the Royal Docks.

Madge Gill: Nature in Mind
Ongoing

See reproductions of work by one of the UK's most revered Outsider artists, Madge Gill (1882-1961), nestled among trees in this outdoor 'gallery'.

Musicity
Ongoing
Encounter music written by local musicians who were inspired by different spaces around the Royal Docks on this walk-with-a-difference.

Wondering Wanders
Ongoing

There's a variety of routes to choose from on these self-guided family activity trails for ramblers or cyclists that take you through the history of the Royal Docks.

This is Who We Are
Ongoing

Find five QR codes on this audio adventure and listen to new audio dramas by people with connections to the Royal Docks.

ARGH Mateys!
Ongoing

Grab your phone and go on this augmented reality-led, interactive trail to find stories hidden in digital portholes.

Making Space
Ongoing

Look out for four large-scale artworks around the Royal Docks created by Jessie Brennan, following conversations with a variety of local community groups. Find them yourself, or head out on one of three lively and engaging guided audio tours available to download.

Untethered
Online

Filmed in the iconic architecture of the Millennium Mills, world-renowned east London hip hop dance theatre company Boy Blue's latest work sees a solo dancer break free from the constraints of the past.

Dock Tales
Online

Local journalist Momtaz Begum-Hossain meets the people who use the waters of the Royal Docks in this series of fascinating interviews.

The Islanders
Online

Learn about the rich history of the Silvertown and North Woolwich communities through this project that brings to life the memories of people that lived here.

Living Histories
Online

Photographer Selina Mayer used an antique glass plate camera made in 1880 to take portraits of local people on the waterfront. See the results in this online exhibition.

Circus Flavours
Online

Filmed in The Factory, Circus Flavours showcases exciting new work from diverse artists working with contemporary circus company, Upswing. See their breath-taking performances and find out about the dedication behind their skills.

Message in a Bottle by Queer Zine Library
Online

In this online exhibition you can flip through a lively and diverse collection of zines (handmade DIY publications) that celebrate the creativity of LGBTQIA+ communities in the Royal Docks.


For your visit
Activities
Wakeup Docklands
Wakeboarding, paddleboarding, and paddleboard yoga – for beginners and back-flippers alike.
Activities
The Quad Club & Spa
This spa, swimming pool and gym in the Crown Plaza Hotel offers calming treatments and classes.
New Arrival
Food & Drink
The Windjammer
The Windjammer is a stunning pub with a big focus on fresh, seasonal food, a community atmosphere and exceptional service.